Our kitchen showroom in central New Jersey features a wide selection of kitchens to tour - nearly a dozen in total. Our kitchen showroom is located in Union County near the border of Vauxhall and Millburn. You'll see a wide assortment of kitchen cabinets as well as select bathroom cabinets all in warm kitchen settings.  See a range of kitchen styles, feel and test the hardware, be inspired by the range of options and narrow your decisions. Real kitchen settings give you a sense of scale and proportion and allow you to see how three dimensional kitchen cabinets can be. If you want to get started on a new kitchen our showroom is a great place to begin your journey.
Our Kitchen Showroom Location
2268 Springfield Ave,
Vauxhall, New Jersey 07088
Call 908-964-7101
Kitchen Showroom Hours
Monday thru Friday 8-5.
Saturday 10-3.
Evenings by appointments
Schedule Your Complimentary Design Consultation In Our Showroom
Drop us a line today and our Senior Kitchen Designer Yury will get in touch to schedule a free, no obligation design consultation at our kitchen showroom. Our call Yury at 908-964-7101 ext. 17. to schedule your personal consultation.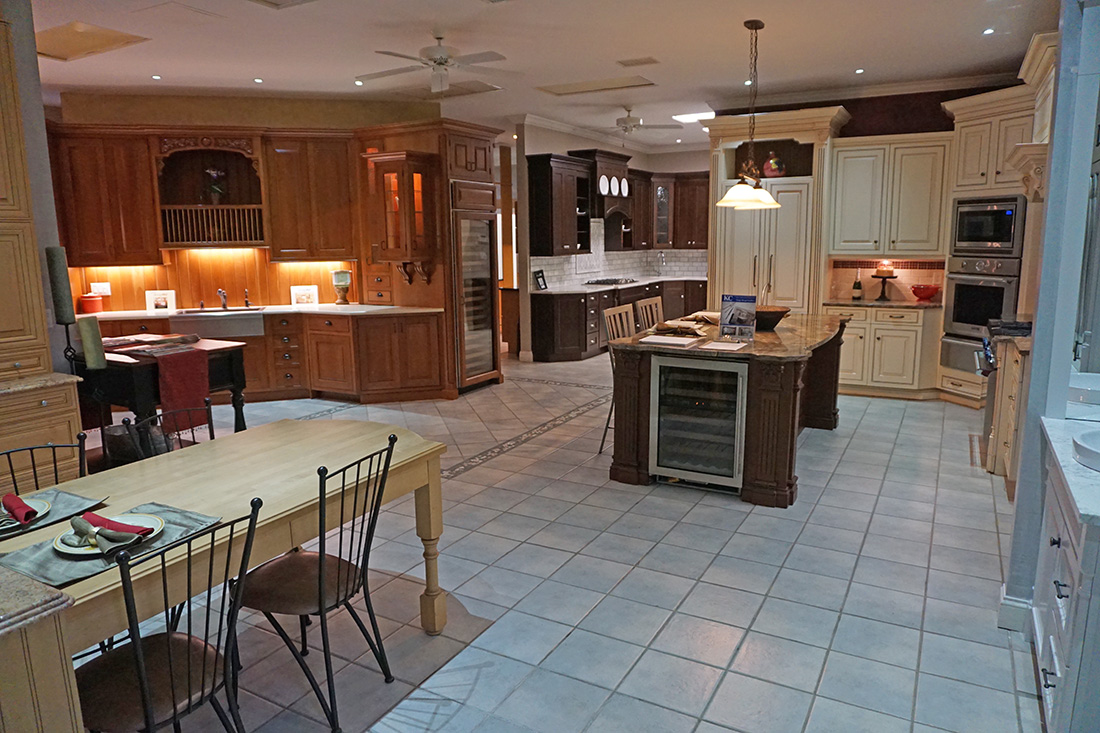 Our kitchen showroom in central New Jersey is located at 2268 Springfield Ave, Vauxhall, New Jersey and features a unique selection of fully finished kitchens in a range of styles. Our showroom is a wonderful place for builders, home remodelers and homeowners to gather information and ideas on a new kitchen or bath. You will see a wide range of kitchen cabinet styles, colors, materials and construction methods. See and feel the difference between a framed and frameless cabinet. Get a great feel for sizing and spacing requirements, color choices, cabinet door hardware, appliance and pantry storage options, moulding and detail work and so much more.
Kitchen Cabinet Manufacturers We Feature In Our New Jersey
Kitchen Showroom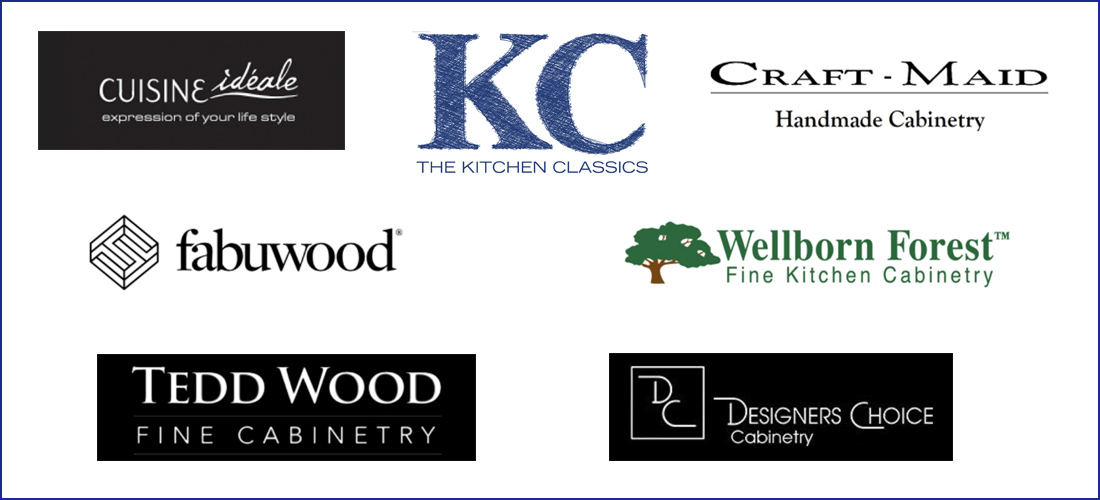 Kitchen Classics Kitchen Showroom Tour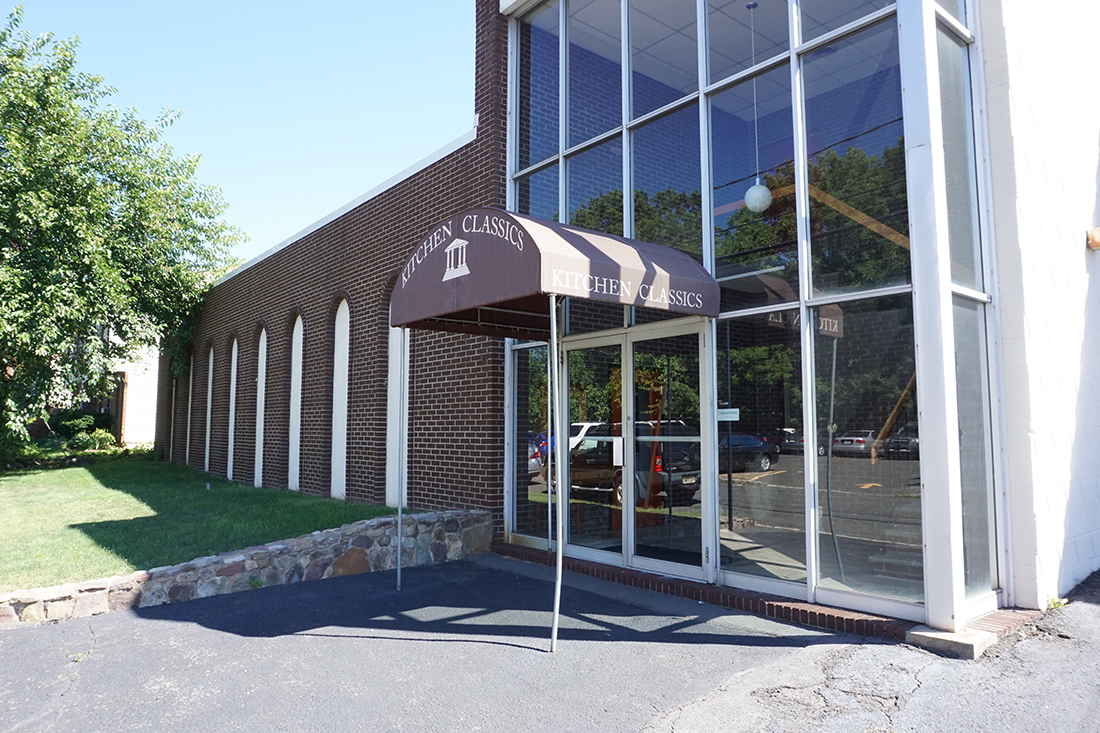 Our kitchen showroom in central New Jersey is conveniently located at 2268 Springfield Ave in Vauxhall - roughly across the street from the Whole Foods/Target shopping center. There's plenty of parking and our hours are Monday - Friday 8:00 - 5:00, Saturdays 8:00 to 3:00 and evenings by appointment.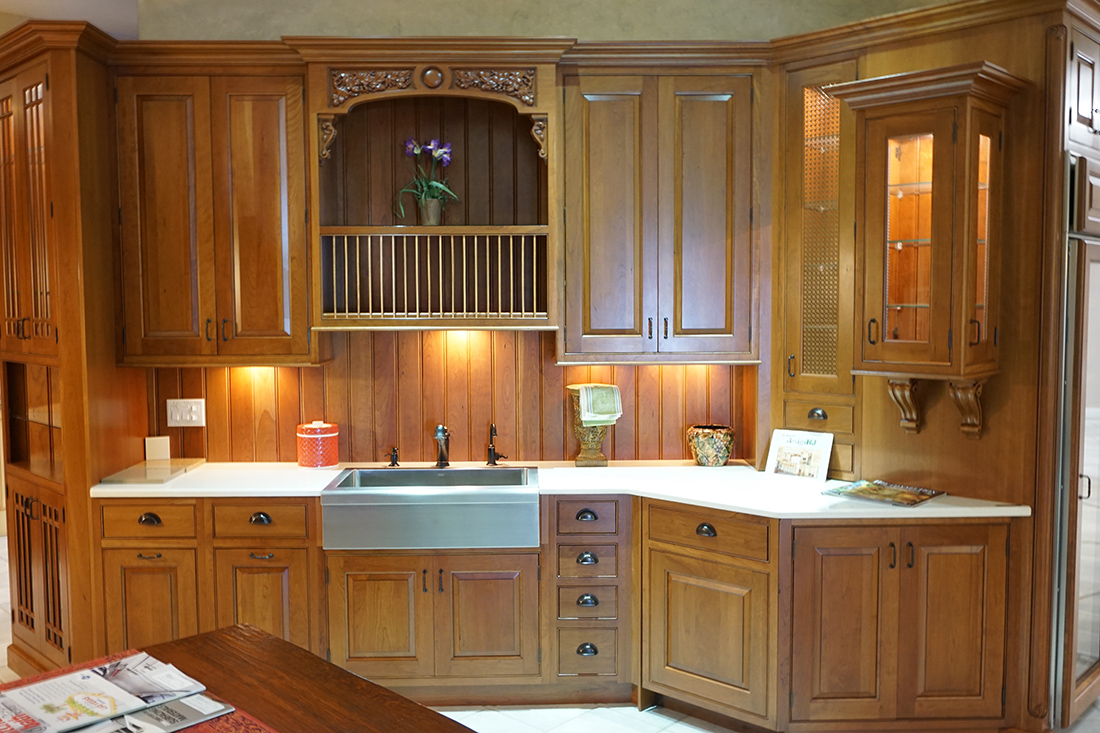 Our Kitchen Showroom in Central New Jersey features a wide range of cabinet types with regard to finish, construction materials, price points and more. This particular kitchen display features a farmhouse sink surrounded by light walnut cabinetry. Frameless cabinets offer greater storage than framed cabinets and you can see that feature and comparison in this and other kitchen displays in our showroom. If you are considering a new kitchen please stop by and explore the range of options and choices that are available. We promise you will walk away with a better understanding of the choices available to you and how to proceed.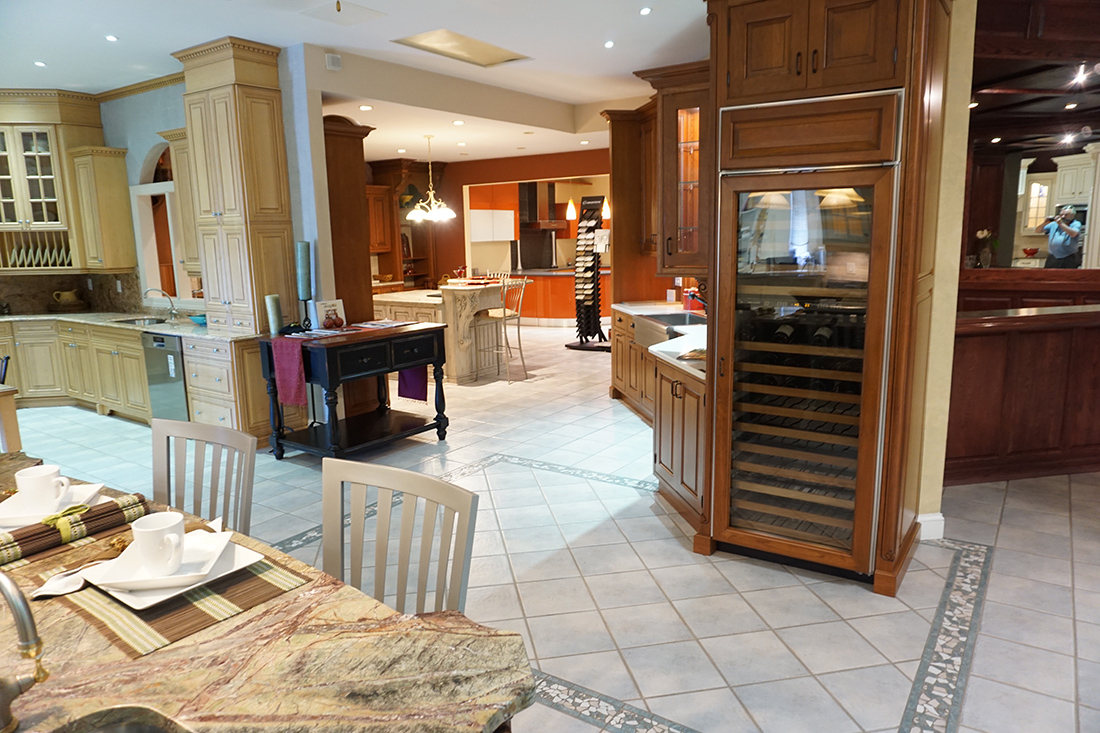 Color is clearly a major choice in kitchen design. You can have cabinets and assorted additions and accessories in virtually any color. Color is complex though as it typically involves some applied finish to the cabinet, and that can involve everything from solid wood to a wide range of laminates and composite products. You will see a range of color choices on full display and within our client design and conference area you will see a full range of color and finish choices.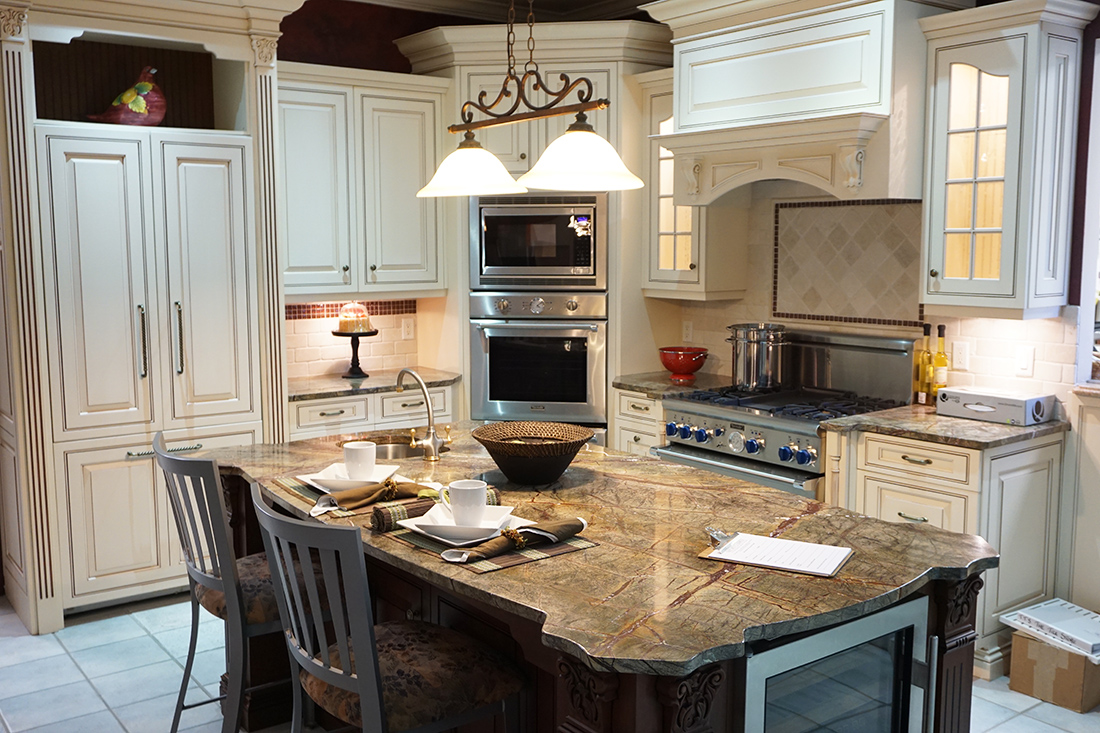 This display of frameless cabinets by Cuisine Ideale a Canadian cabinet maker.features a hidden refrigerator to the left, microwave and oven in a corner cabinet, hidden disposal drawer and dishwasher, built in mini-refrigerator, custom wood hood and a number of other unique features. The raised panel doors and drawer fronts are finished in a two tone glaze that gives the kitchen a wonderful timeless feel.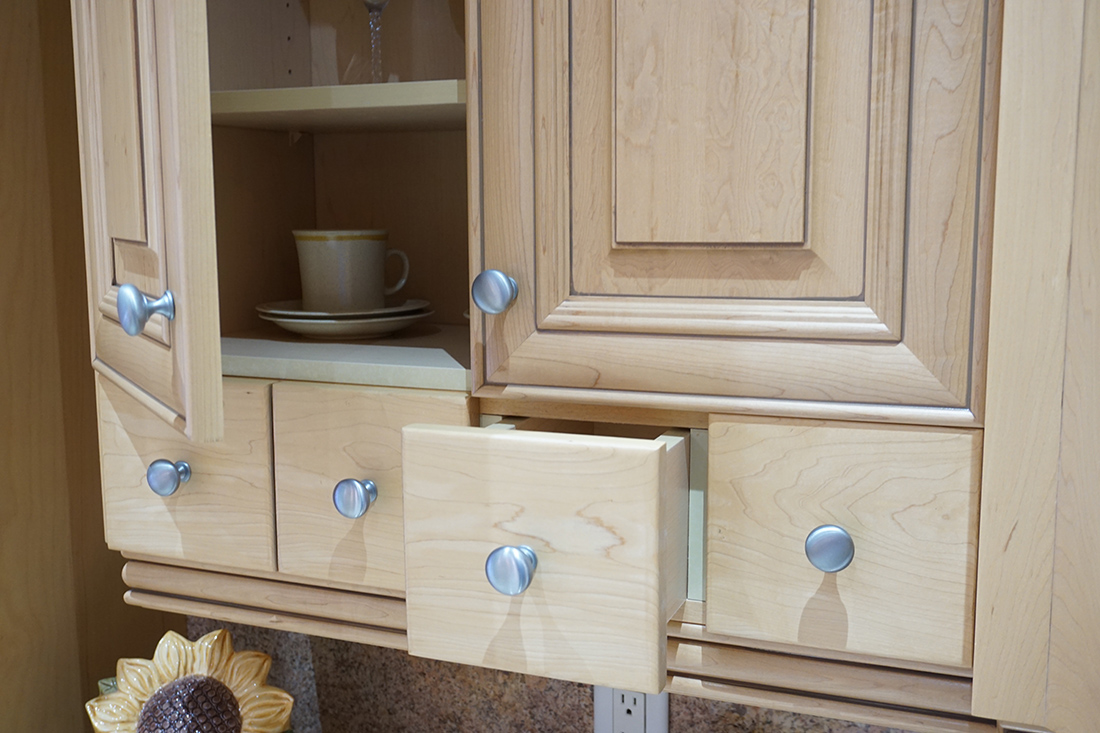 Our Union County, New Jersey Kitchen Showroom allows you to try out doors and drawers, slide outs and built ins. Testing the hardware, feeling how doors open and close, feeling a self-closing door or drawer can help our clients understand in a meaningful way the design choices that they will live with every day in their new kitchen. These are important choices and there is no substitute for actually seeing and trying different options.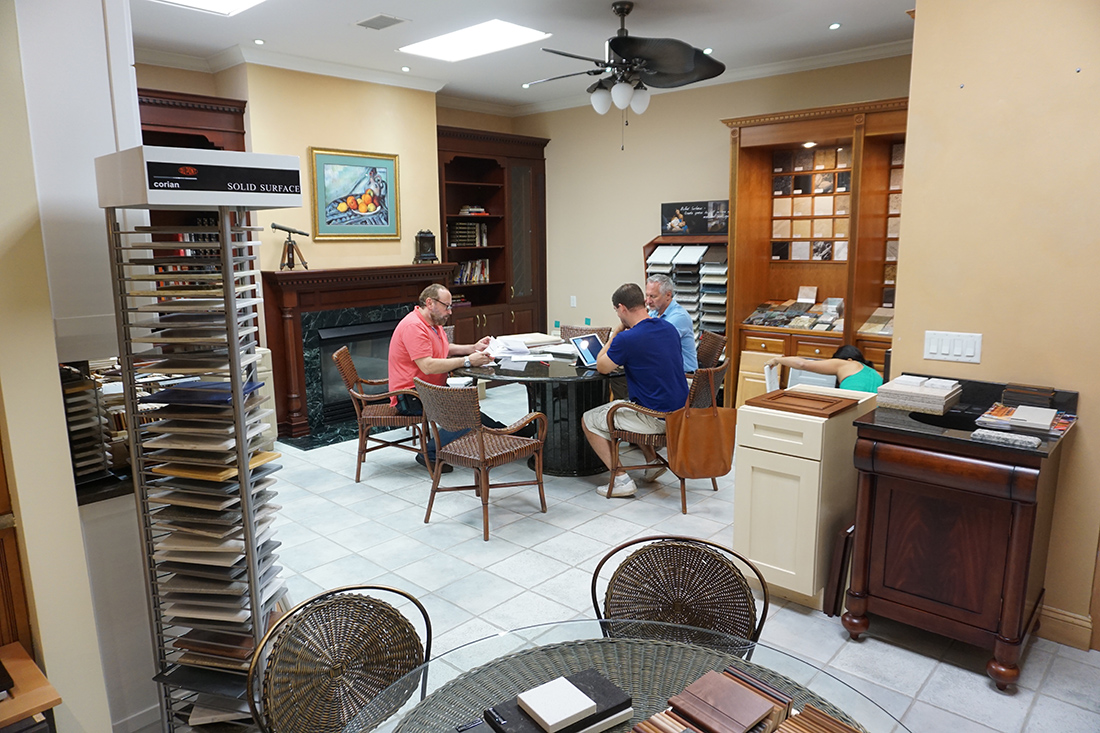 The conference area and design center allow our staff to work comfortably with you in an area that shows you a full range of choices for your project. You can explore cabinet materials and finishes, countertop materials, door and cabinet hardware and a range of other options..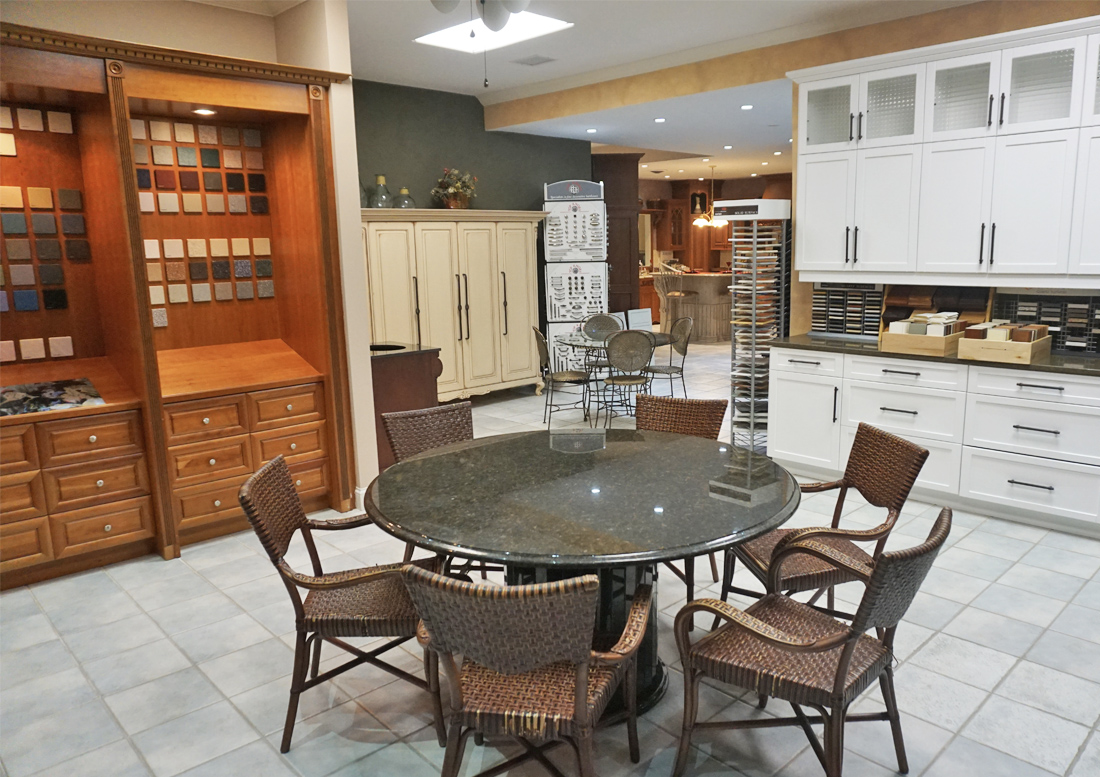 Our Kitchen Showroom in Central New Jersey is a great resource to explore the kitchen of your dreams. We would appreciate the opportunity to sit down with you and discuss your kitchen and bath project. For over 40 years we have been designing and installing kitchens, baths and more and we are ready to help assure the success of your project. Please call us at 908-964-7101.
Showroom & Business Offices
The Kitchen Classics, LLC
2268 Springfield Ave
Vauxhall, New Jersey 07088
908-964-7101
Showroom Hours:
Monday - Friday 8:00 - 5:00
Saturdays  - 10:00 - 3:00
Evenings by Appointment
If you would like us to contact you please fill in the form below.