Builder's Kitchen In Warren, NJ
When a couple that works together as part of team behind one of central New Jersey's most respected custom home builders - Distinctive Domain - builds their own home, they turned to Kitchen Classics for the design of their kitchen, pantry, mudroom and bathrooms. A builder's kitchen can be challenging - something truly unique is always the goal. Distinctive Domain builds higher end custom homes throughout central New Jersey. With over 50 years of experience they are one of the most respected custom home builders in the state. Kitchen Classics has worked with the team at Distinctive Domain for nearly two decades. This wonderful new home offered a spacious open floor plan with the kitchen, dining and family rooms melding into one open space. Senior Kitchen designer Yury Slobodsky worked closely with the couple to design a kitchen and pantry that met the needs of a family that can swell from two to eight when the children and grandchildren arrive. The result is a two-tone theme of white and wood grains, a center island, spacious cabinetry, hidden appliances and well thought out flow and functionality. Kitchen Classics is proud of our work on this builder's kitchen and the couple is thrilled with their new home.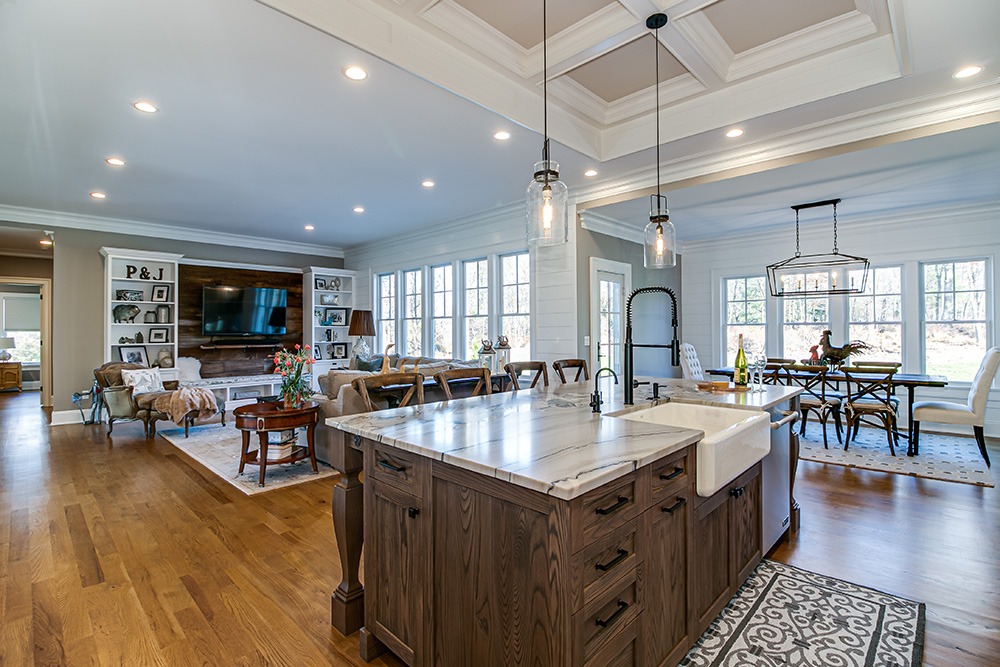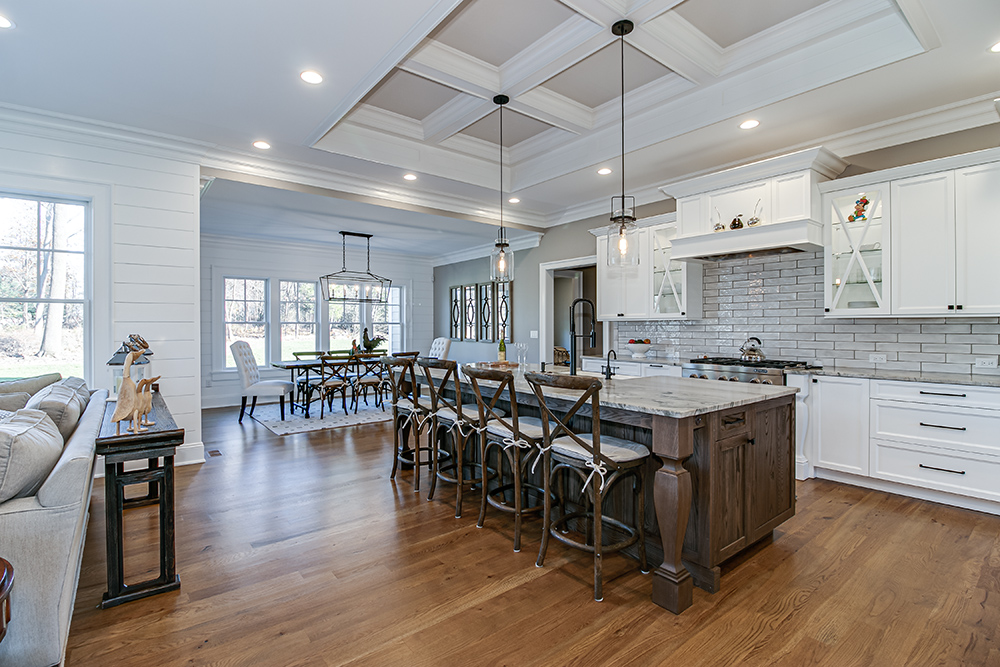 An expansive L-shaped room holds the kitchen, dining area and family room. It is a beautiful, warm space and the kitchen and pantry fit neatly into the corner. The deep wood grains and colors in the center island compliment the floor and contrast with the white cabinetry. This two tone effect - with the base of the kitchen island being a contrasting color to the cabinetry is popular now, especially when there are wood floors.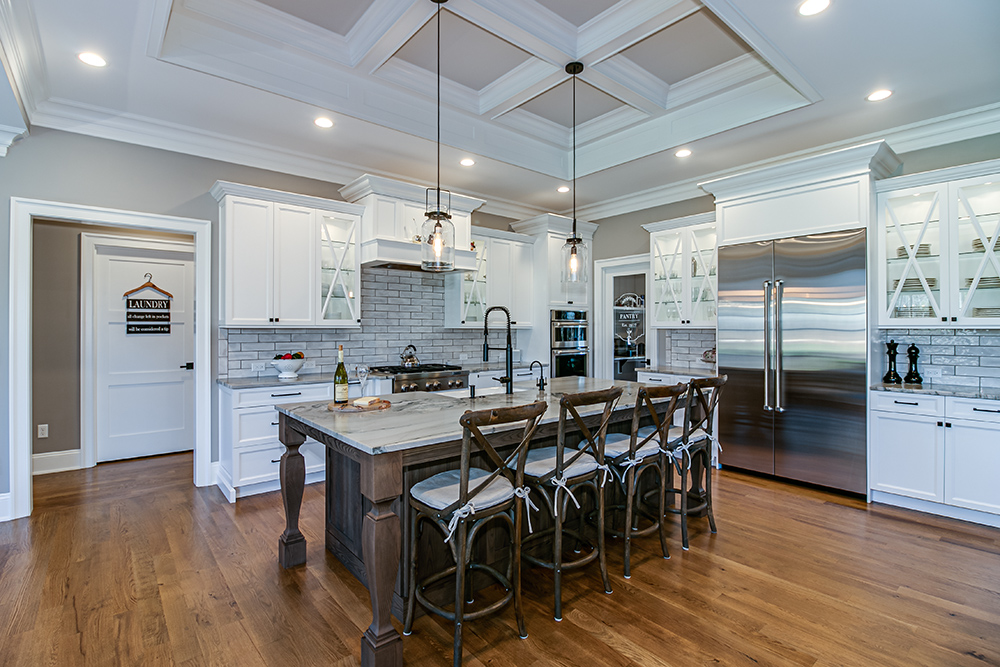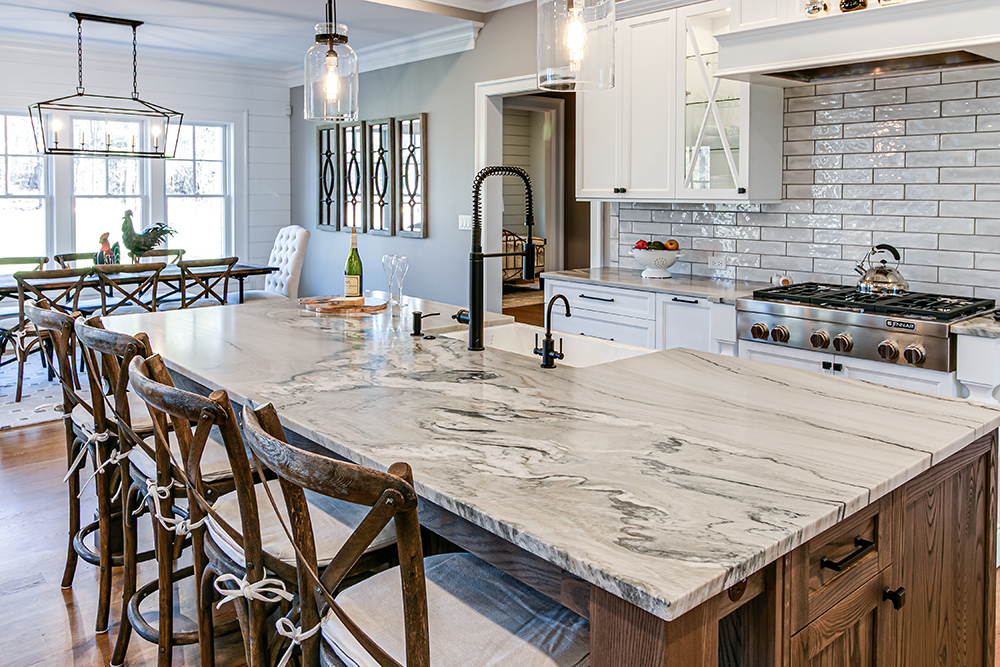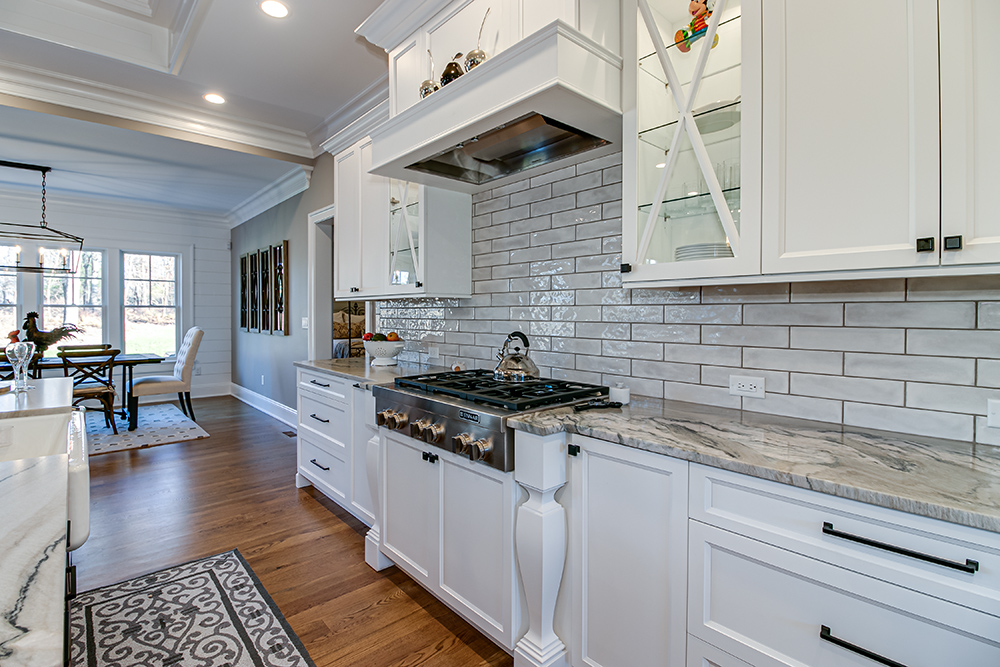 In a kitchen - style without function is a waste. We design kitchens that function and the style flows from that. Where is the refrigerator in relation to counter space, are pots and pans stored directly by the stove, where is the dishwasher in relation to the sink? These and countless other questions, including understanding the clients lifestyle, are crucial to design a kitchen that is a joy to be in, and just as easy to work in.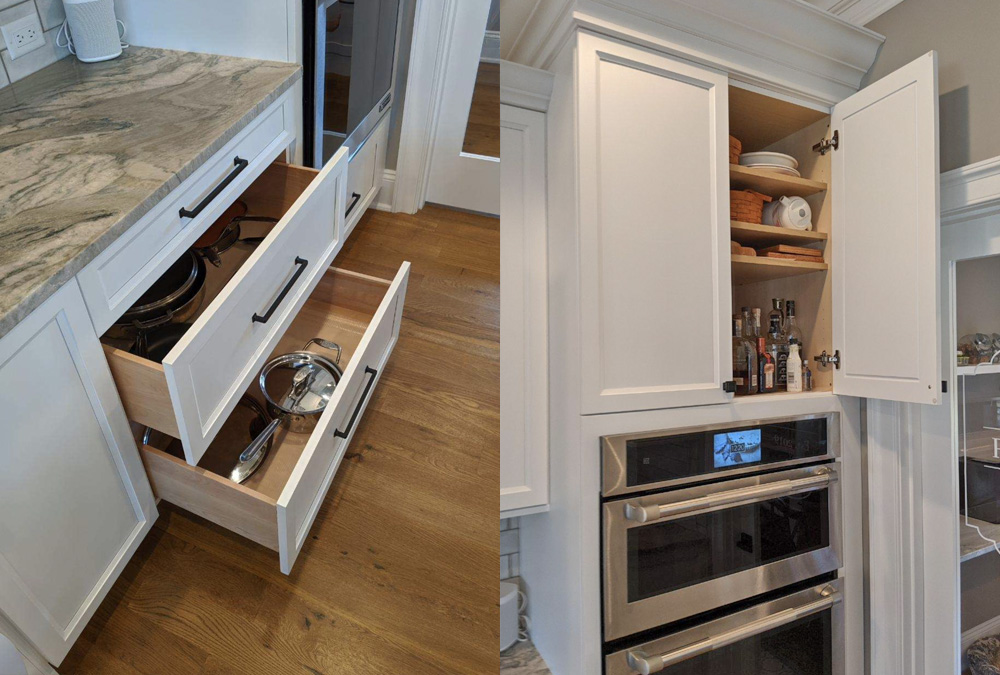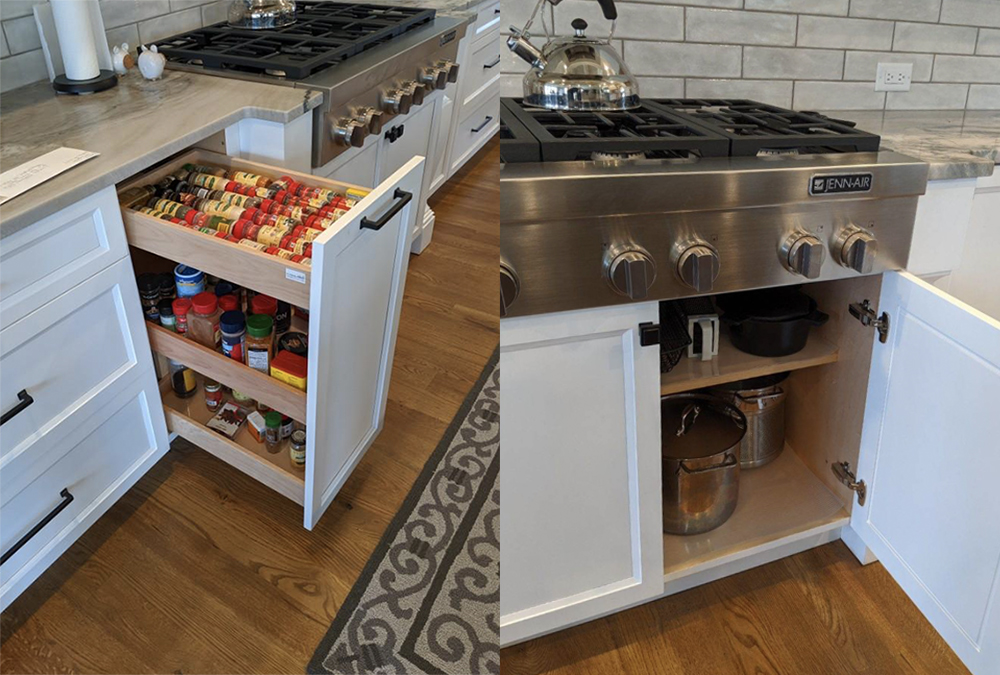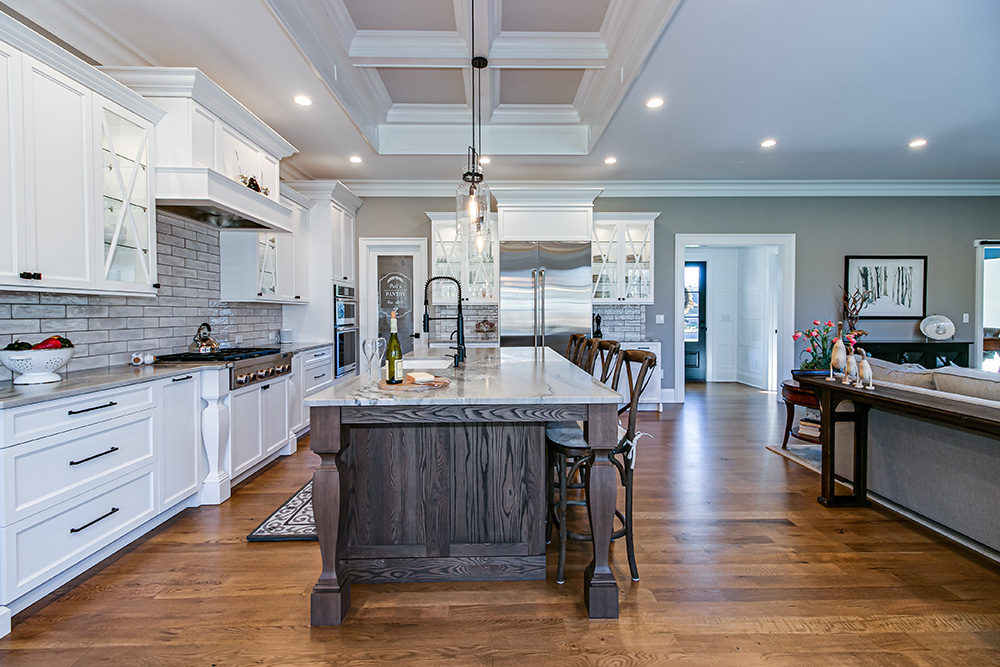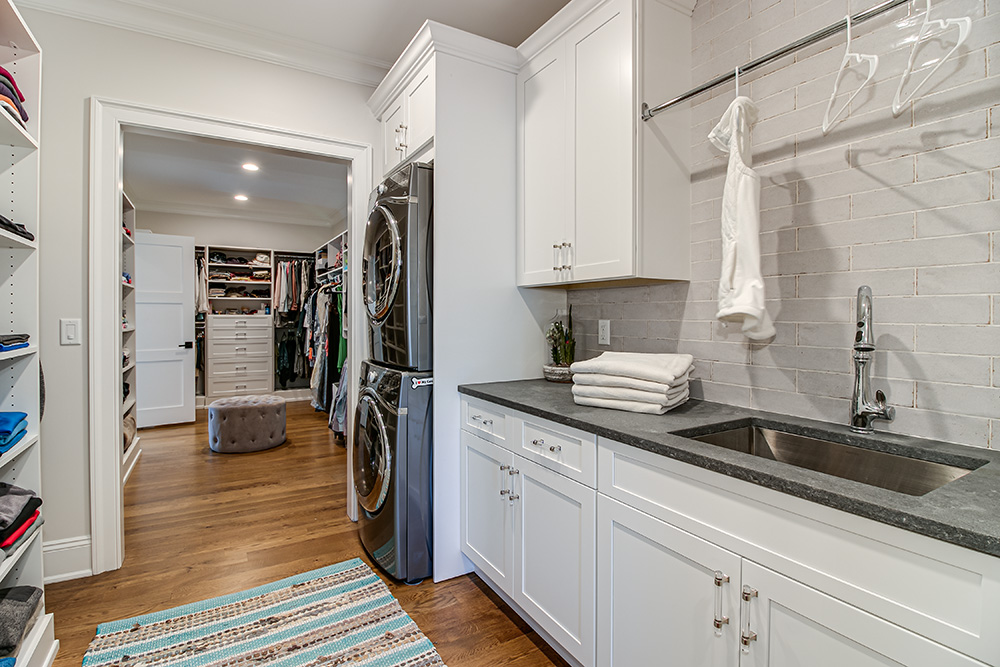 This expansive ranch home melds style, storage and function throughout. We helped design the storage solutions throughout the laundry room, master bedroom closet areas. The result is a highly functional, seamless space that makes life easier for this busy couple.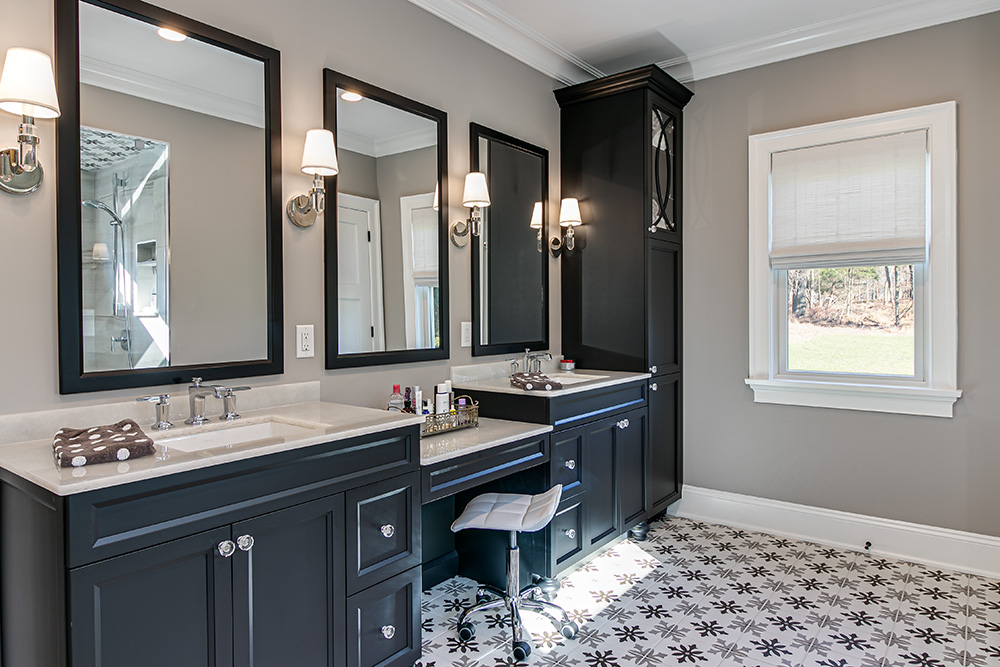 We design and install a full compliment of bathroom storage and cabinetry solutions.