Third and Valley is described by its developer - Jonathan Green Companies - as "New construction of 215-mixed income residential units, 513 parking spaces in structured deck, and 3,000 square feet of retail space located one block from the South Orange NJ Transit train station".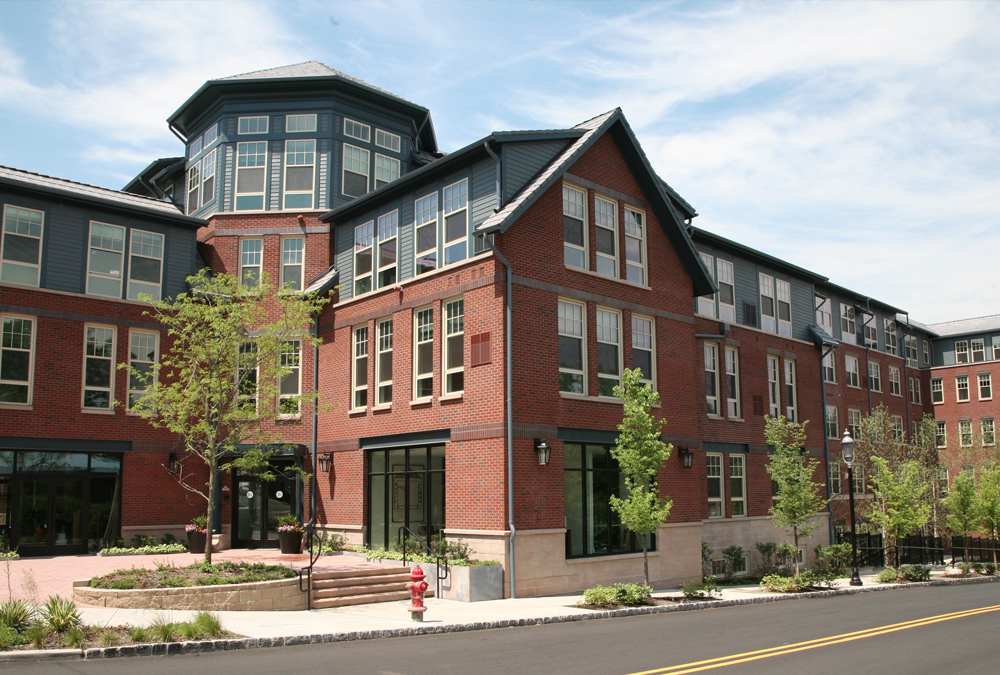 What We Provided Continental Properties
228 Condominiums
All kitchen cabinetry and countertops
All bathroom cabinetry and countertops
All entry doors and interior doors
Common areas and clubhouse areas
Moulding throughout
Design services
Complete installation
Guided Tour Of Kitchen Classics Work At The Mark Fairfield County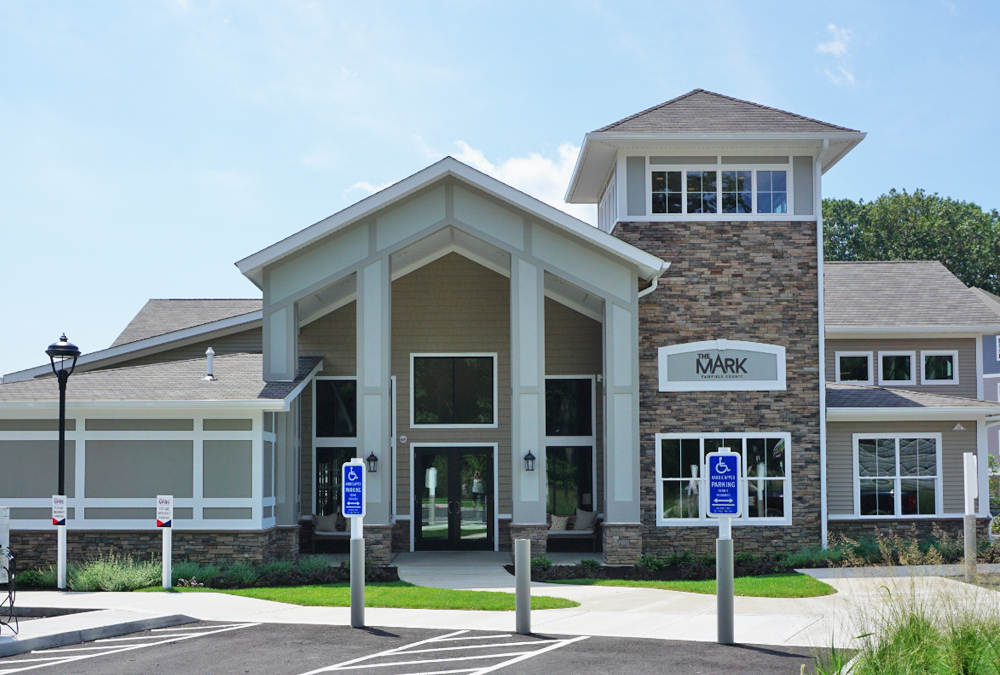 The Mark At Fairfield County features a beautiful clubhouse building, a signature of a Continental Properties multi-family project. Kitchen Classics was contracted to complete all finishing millwork on the interior spaces off the clubhouse.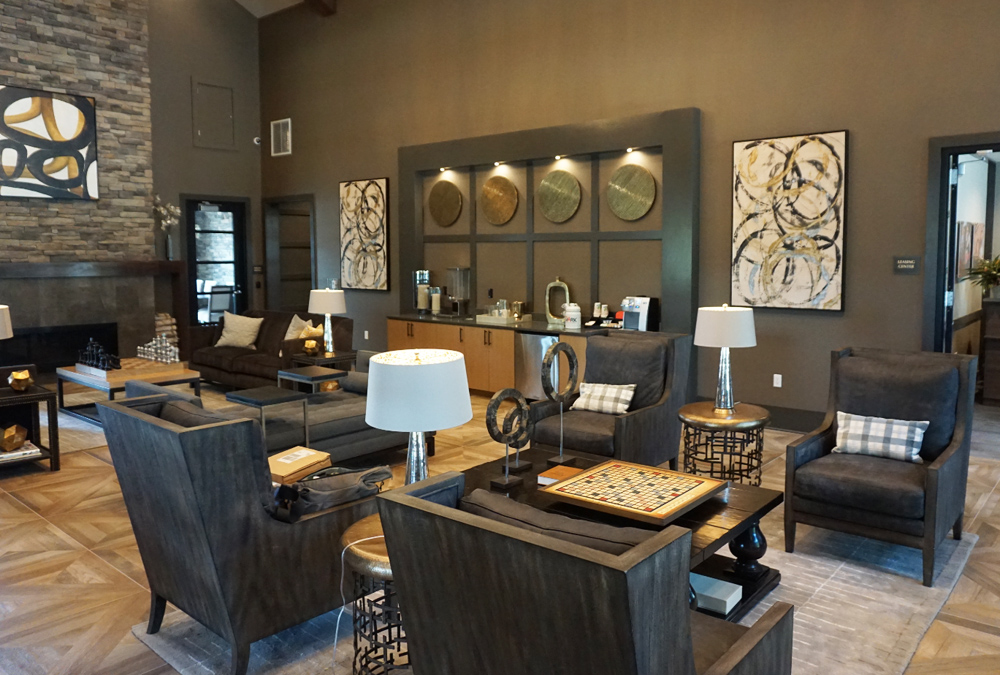 We work with designers to assure the buildability of the design. We then expertly construct even the most complex designs. We were responsible for all doors and trim work in the clubhouse. We handled the finishing millwork in the main room of the clubhouse which is a warm inviting space. Note the wood, metal, cabinetry and countertop work on the coffee bar in the top center of the picture.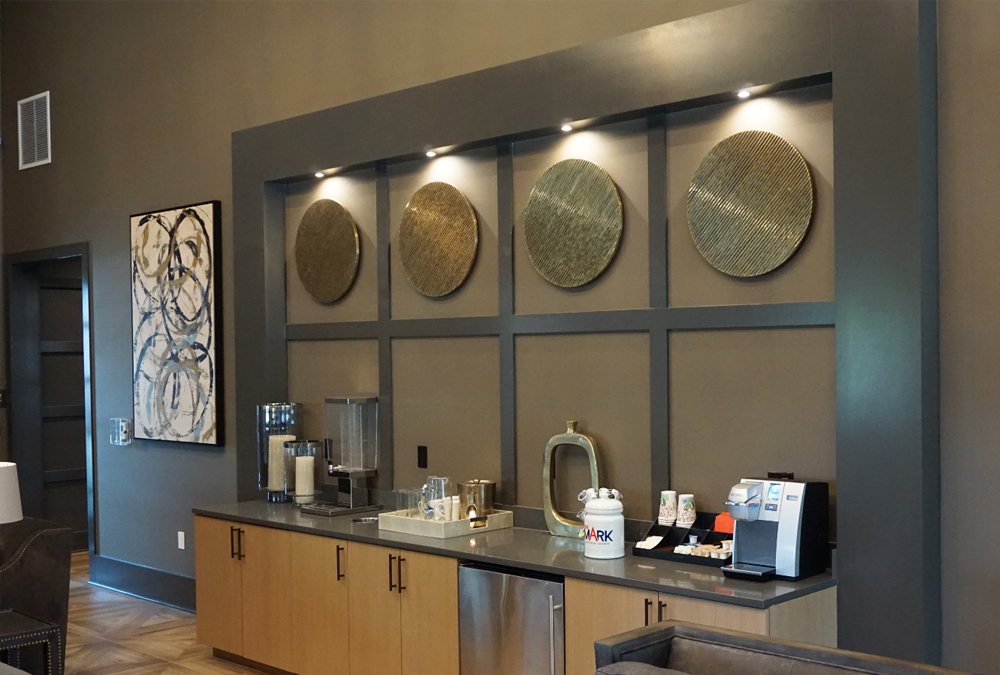 We employ experienced kitchen, bath and specialty millwork craftspeople. The quality of our work is apparent in the coffee bar area..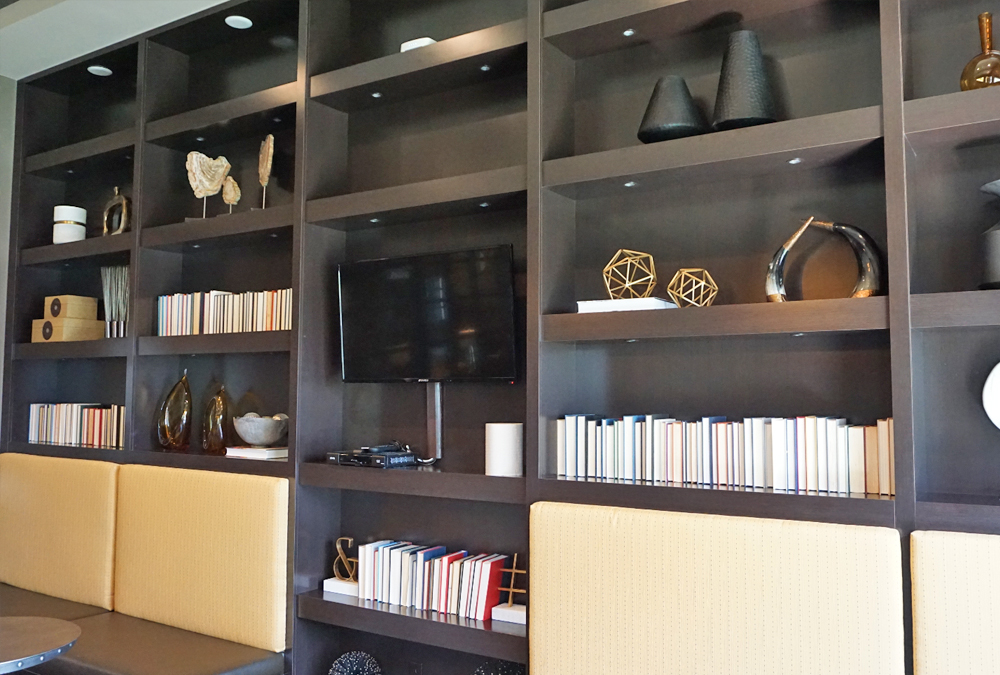 This is a complex, built-in custom wall unit that we designed and constructed. There are recessed lights in multiple shelves and we worked closely with the electrical contractor to make it invisible. We are highly skilled craftspeople with a 40 year long commitment to quality..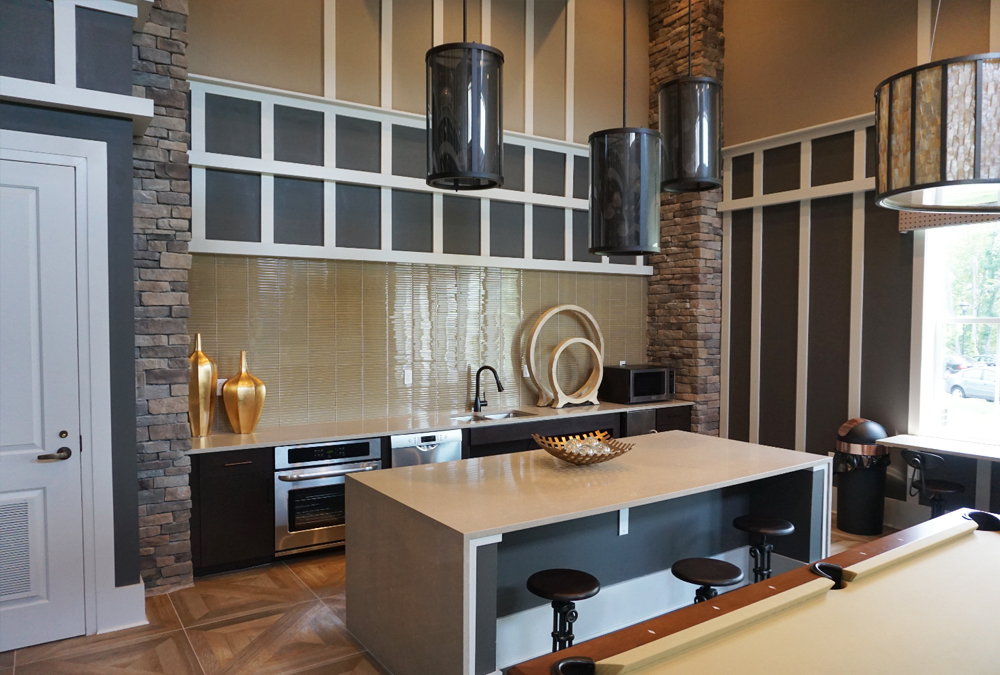 We are responsible for virtually all finishing touches shown in this picture. We designed and installed the kitchen cabinet and countertop, the center island, as well as the moulding treatment shown on the two back walls.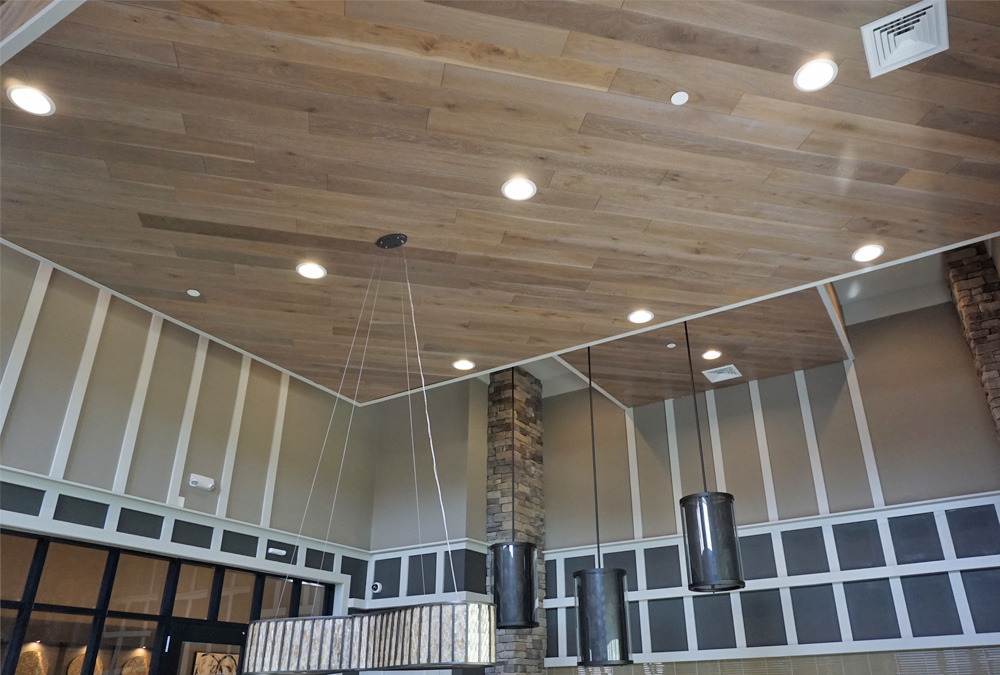 We constructed this complex, multi-level drop down wood panel ceiling. We employ excellent craftspeople.that can complete complex finish carpentry and millwork for multi-family developers.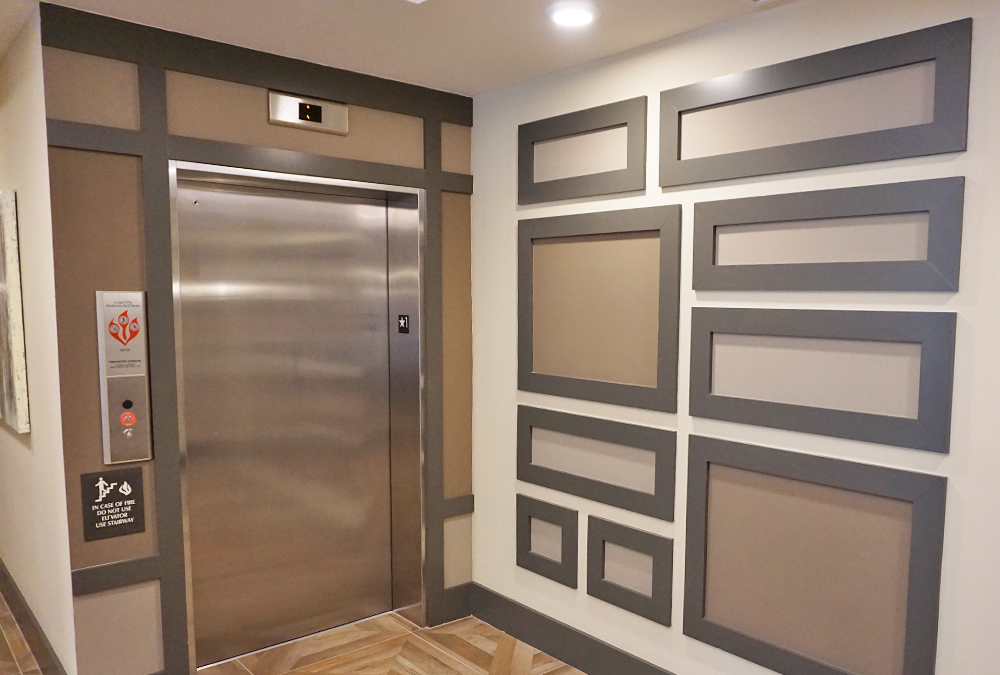 This simple molding treatment at the elevator lobby adds a low cost decorative touch and enlivens and otherwise blank wall. We installed similar treatments throughout the unit common areas of this 286 unit Connecticut multi-family project.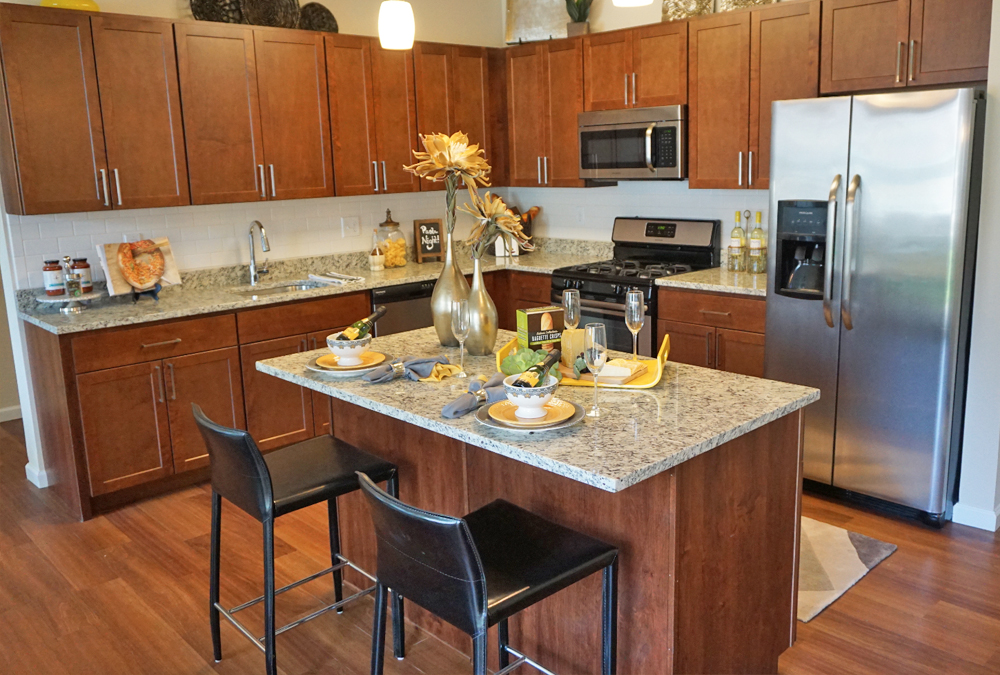 Kitchen Classics handled a range of tasks in the multi-family residential units including warm, spacious kitchens, baths, all entry and interior doors and moldings throughout.
Counterspace is coveted in every kitchen and our designers provided plenty in these 1 and 2 bedroom multi-family residential kitchens. A warm, darker stain was chosen for the shaker style kitchen cabinets and doors. Kitchen Classics also designs or sources and installs all kitchen and bath cabinet hardware (door and drawer handles, door knobs and locks, etc.). We were pleased to source and install the simple, geometric kitchen door hardware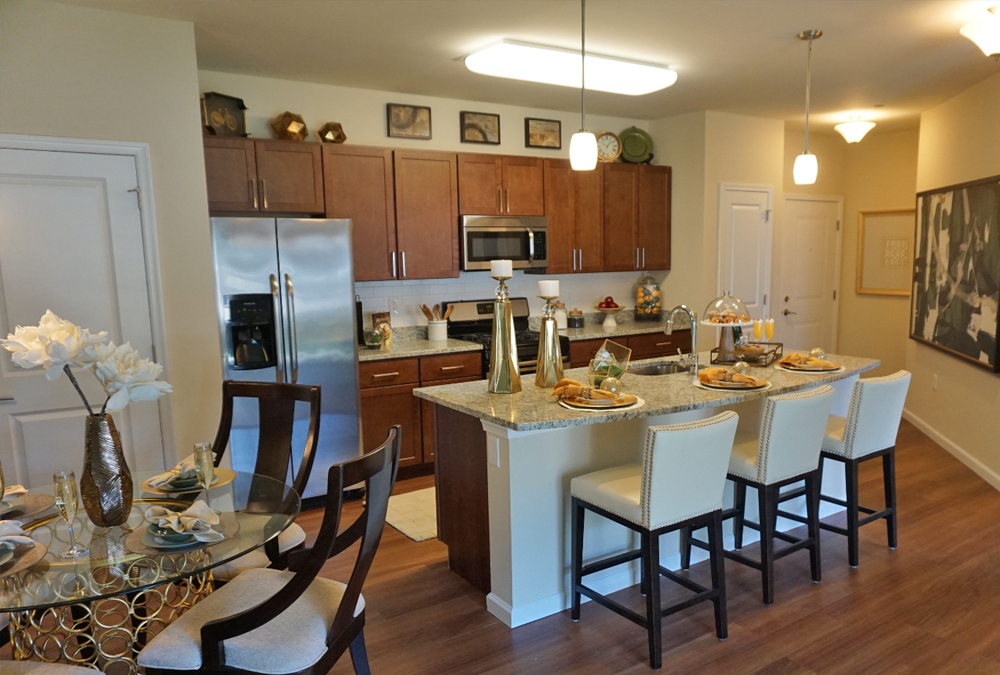 Continental Properties is an exceptionally well run multi-family residential builder that completes substantial projects on time and budget. Kitchen Classics was chosen to not only complete the majority of finishing details in the clubhouse, but we provided the finished kitchens, baths, doors, hardware and molding for all 228 units. We make life easier for multi-family residential builders by serving as the single company responsible for a substantial portion all all finishing details throughout the multi-family project.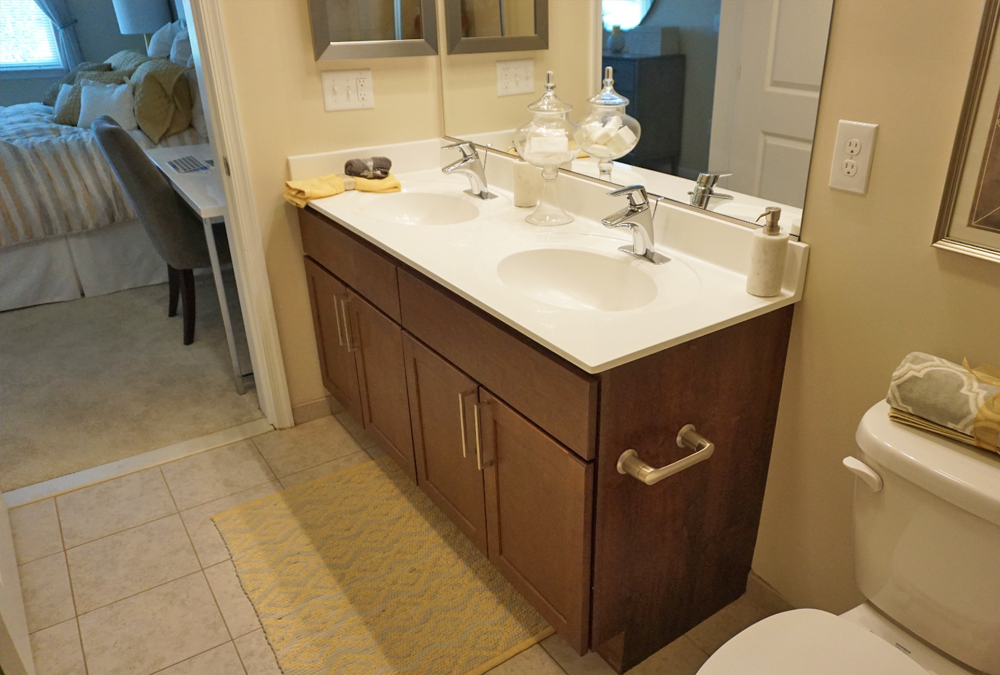 Kitchen Classics also provided and installed bathroom cabinetry, marble countertops and cabinet hardware for all 228 bathrooms..
Services We Provide Multi-Family Residential Developers
Kitchen Cabinetry and Countertops
Bathroom Cabinetry and Countertops
Complete Kitchen and Bath Installation
All Interior Doors
Interior Mouldings
Common Area Finishes
Kitchenettes & Bars
Bookcases, Computer Bars, Offices
Design Services
Complete Installation Services
Learn More About Our Multi Family Residential Services
CONTACT US