A Somerset County kitchen renovation for a throughly renovated  home in Martinsville NJ receives a beautiful but easily managed new kitchen from Allen Homes Inc. of Bridgewater, NJ.. The clients depended on Rich Allen of Allen Homes for extensive renovations and additions throughout the home including an expanded kitchen area with new cabinetry and countertops - all designed and installed by Kitchen Classics. This is not the only Somerset County kitchen renovation we have done, we work extensively in Somerset County and have renovated kitchen spaces in Warren, Watching, Somerville, Bedminster, Branchurg, Bernardsville, Far Hills, Bridgewater, Peapack and Gladstone. If you are a Somerset County resident and are looking for a new kitchen space please call Kitchen Classics today at 908-964-7101.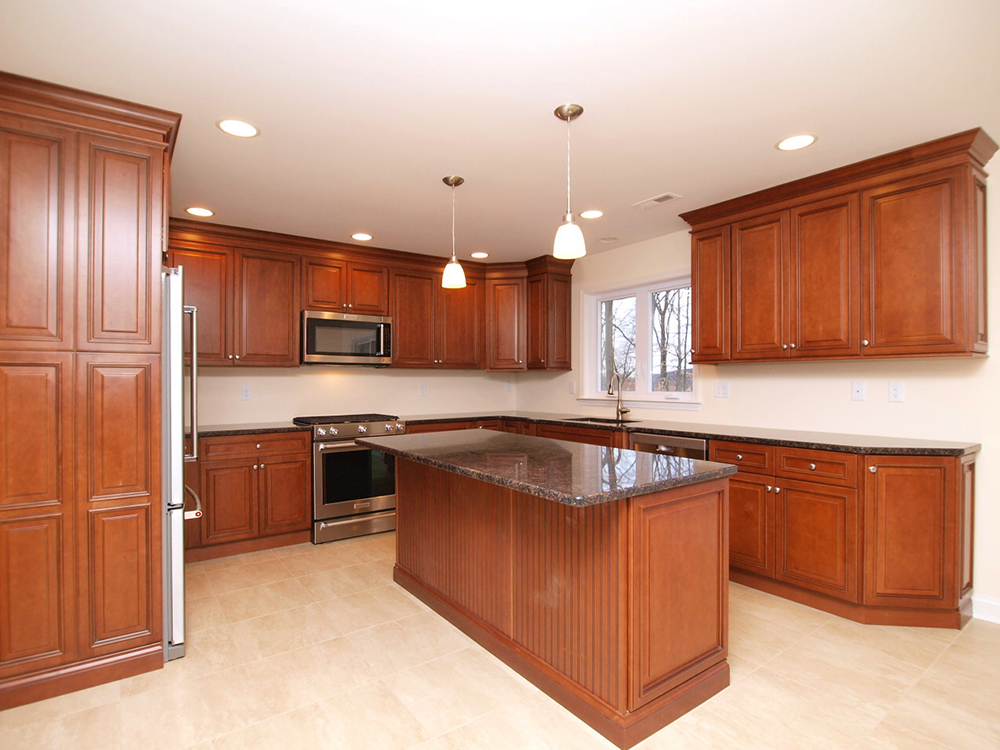 What We Provided Allen Homes At This Home
All kitchen cabinetry and countertops
All bathroom cabinetry and countertops
Allen Homes of Bridgewater, NJ builds new homes, additions and more.
Guided Tour With Captioned Narration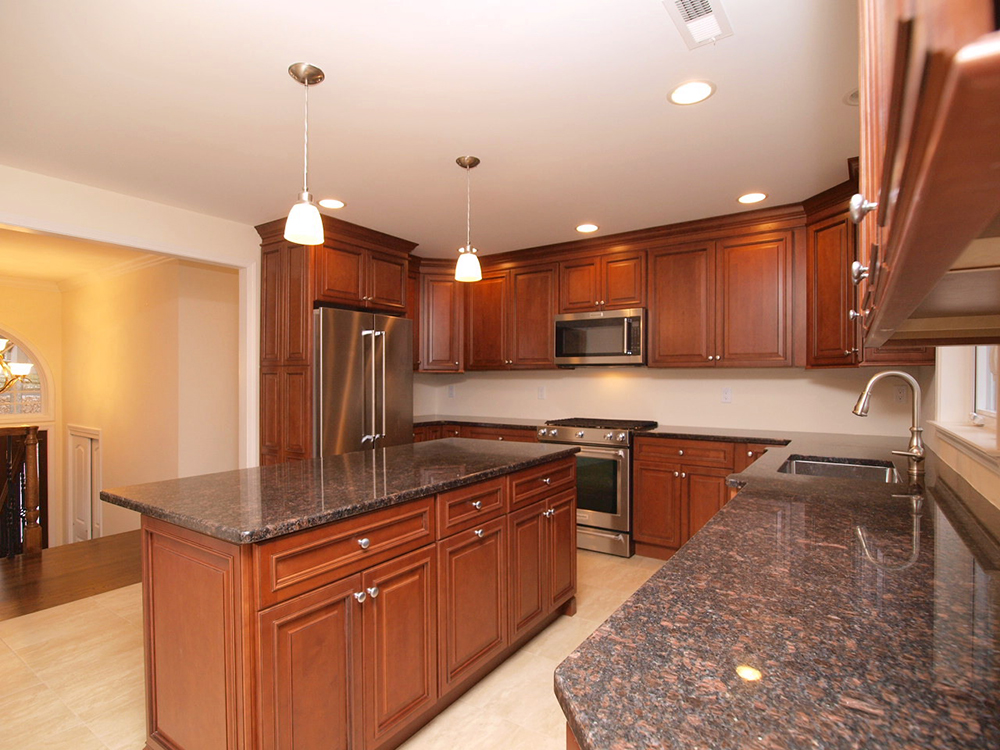 Built by Allen Homes of Martinsville, NJ this home features a beautifully designed and installed kitchen with center island. This is a mid-priced kitchen - we work very effectively with any size budget. You can see the richness of the colors, and the quality of the installation. Note the beautiful wood and moulding treatment at the end of the center kitchen island. We are committed to quality work no matter what size the job, and numerous builders around central New Jersey appreciate that.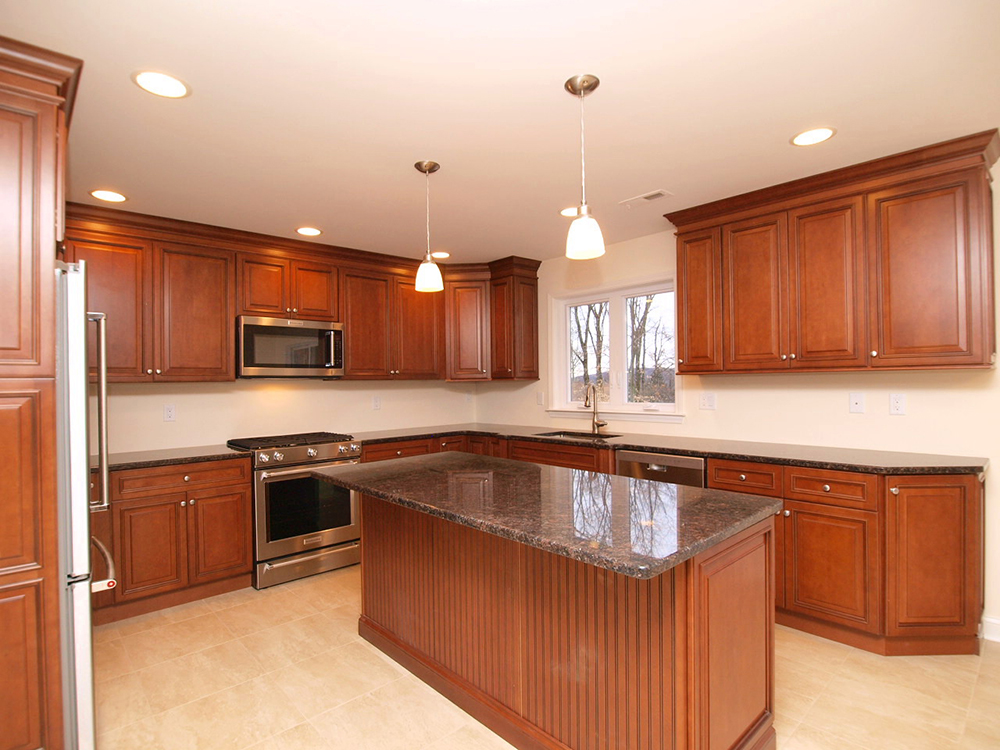 These are imported cabinets to fit a tighter budget but the quality is outstanding and the choices for custom treatments is extensive. The builder was very pleased with the design. These are 36" floor cabinets with two different size 45 degree bends with crown moulding up top, all done in a light walnut stain. This is an elegant, rich look that will last.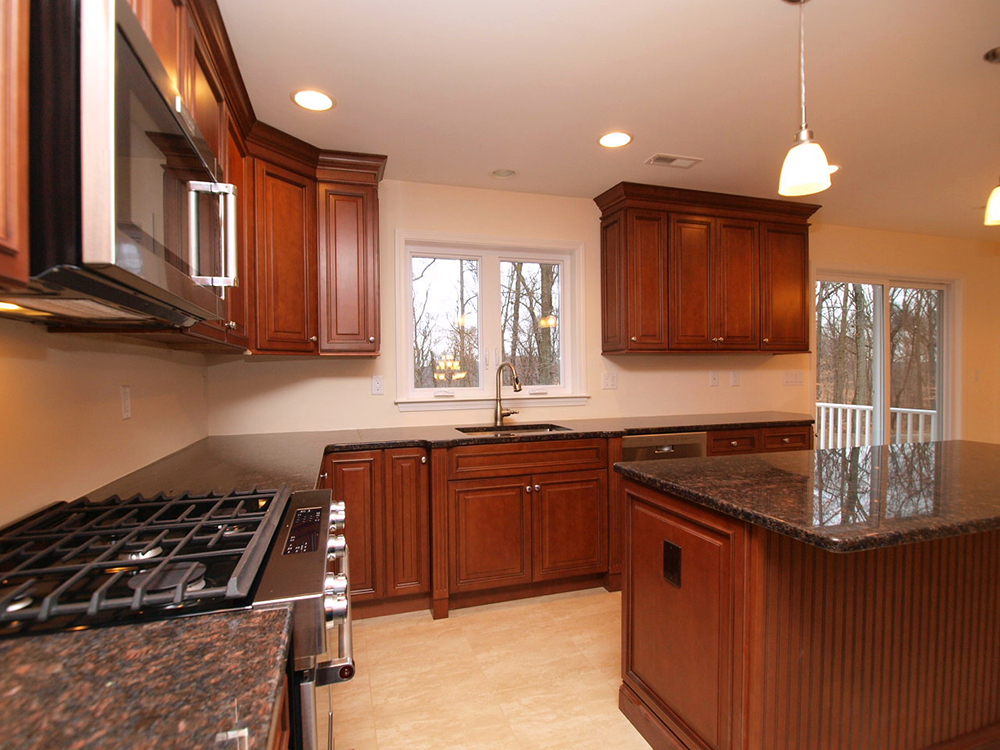 The center island of this Martinsville home in Somerset County New Jersey has wainscoting, a built-in trash receptacle, two storage cabinets and room for 3 to 4 stools. This is a high value kitchen that fits the budget of mid-priced homes and meets the quality standards of discerning builders like Allen Homes.