A new home in Warren, NJ built by a local home builder and his wife for their family. Situated on a beautiful ledge of the Watching Mountains overlooking the valleys of central New Jersey below, this was the dream home for these experienced single family homebuilders. Kitchen Classics designed and installed the kitchen, four baths, living room bookcases, laundry room cabinetry, butler's pantry and mudroom amenities in this beautiful New Jersey home.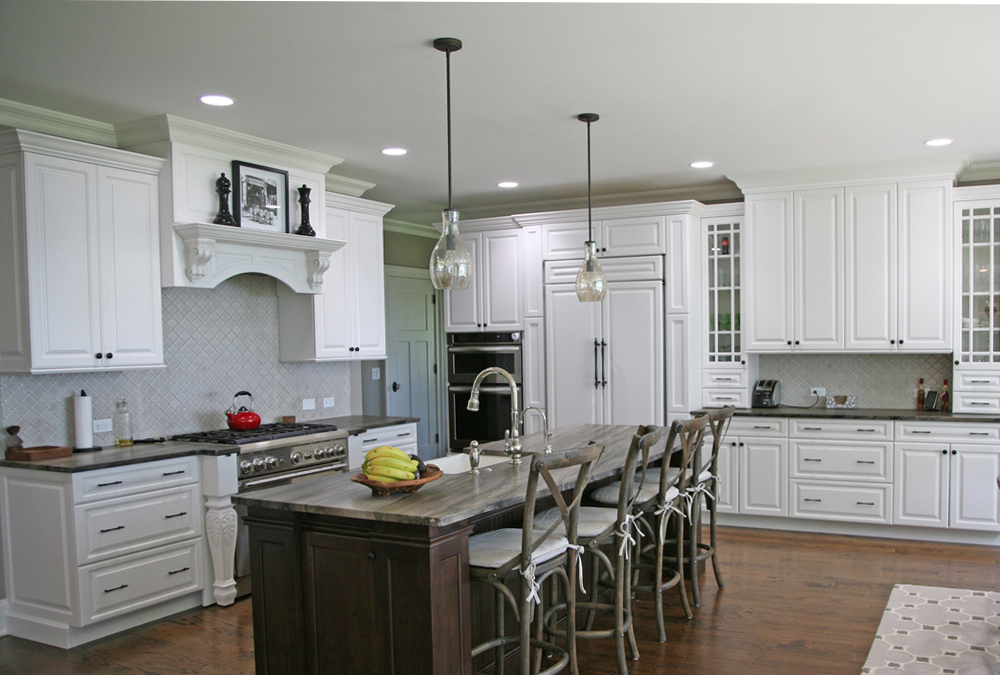 Kitchen Classics provided design and installation services for the following areas in the beautiful Warren, NJ home:
All kitchen cabinetry and countertops
All bathroom cabinetry and countertops (4)
Laundry room cabinet and countertop
Mudroom bench and storage
Message center cabinet and countertop
Living room bookcases
Guided Tour With Captioned Narration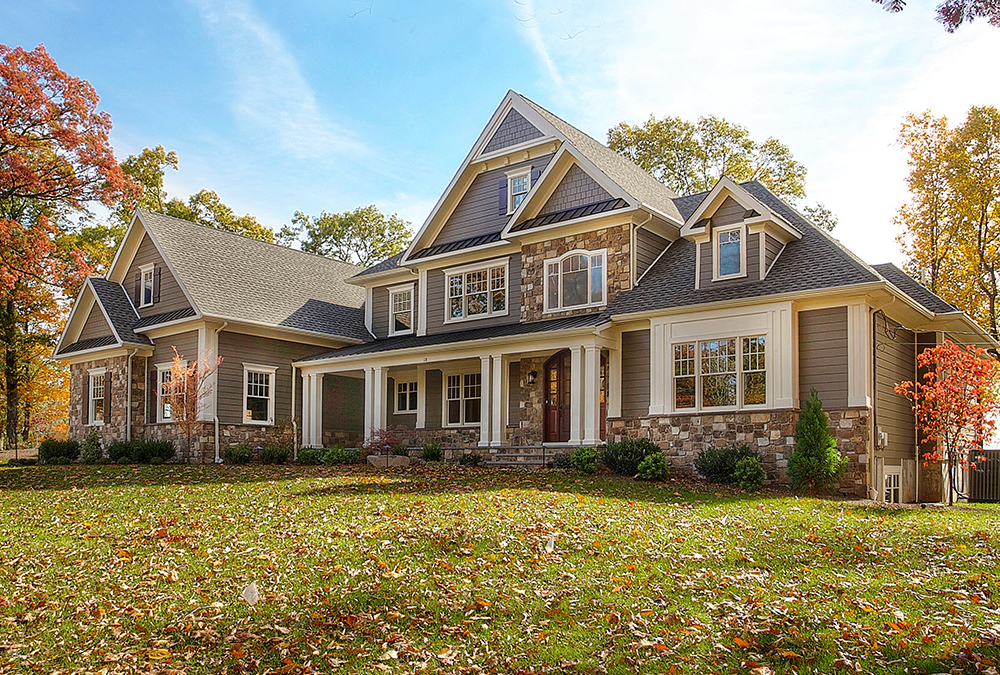 This 4,700 square foot home on a 1.5 acre ridge lot in Somerset County is the dream home of a respected local builder and his wife. The couple were both moving back to their home town and wanted a home that could meet the needs of a family of six. Kitchen Classics of Milburn/Vauxhall, New Jersey not only did the kitchen cabinetry and countertops but did four bathrooms, the living room bookcases, laundry room amenities, mud room built-ins and a butler's pantry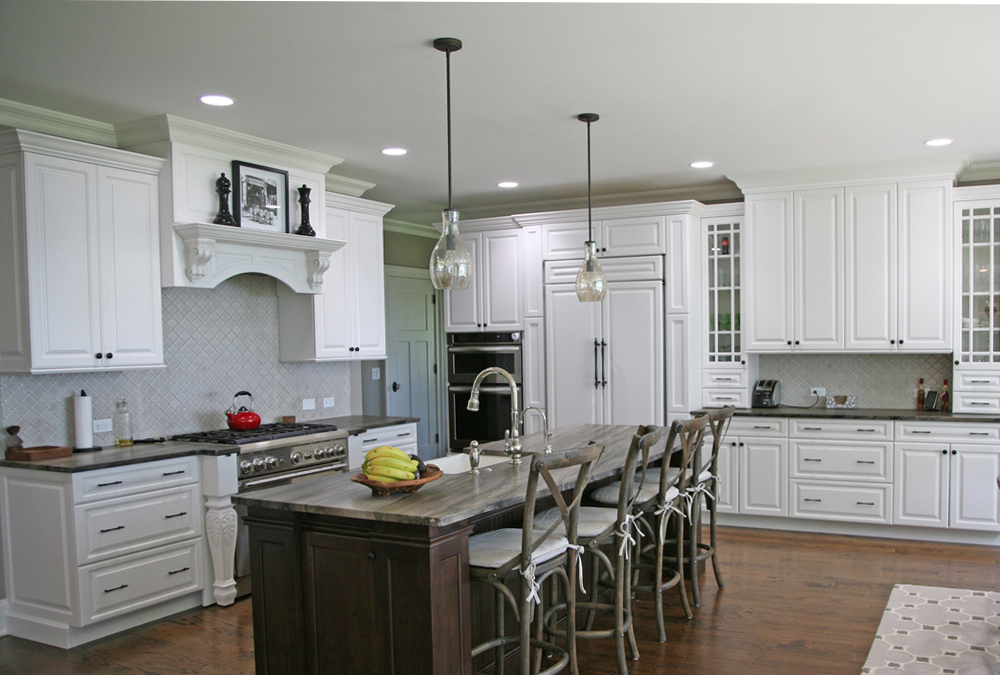 Kitchen Classics both designed and installed this beautiful new home kitchen and breakfast nook.
The cabinets surrounding the stove and throughout the far wall are all frameless (increases storage space inside by eliminating what can be bulky wood framing).
Raised panel door cabinets with matching raised panel drawer heads below used throughout this New Jersey new home kitchen.
A custom stove wood hood anchors the left wall, flanked by cabinets that are both lower and set back creating the 3-dimensional cabinet look that adds to the beauty.
Roll out spice drawers behind hand carved column fronts flank the stove.
Center Island is wood with raised panel accents with a farm sink, dishwasher and room for four stools (see below).
Raised panel multidimensional cabinetry flanks the opposite wall. Concealed Sub-Zero refrigerator, appliance counter nook, extensive dish and glass storage, a kitchen office and additional storage cabinets complete the wall.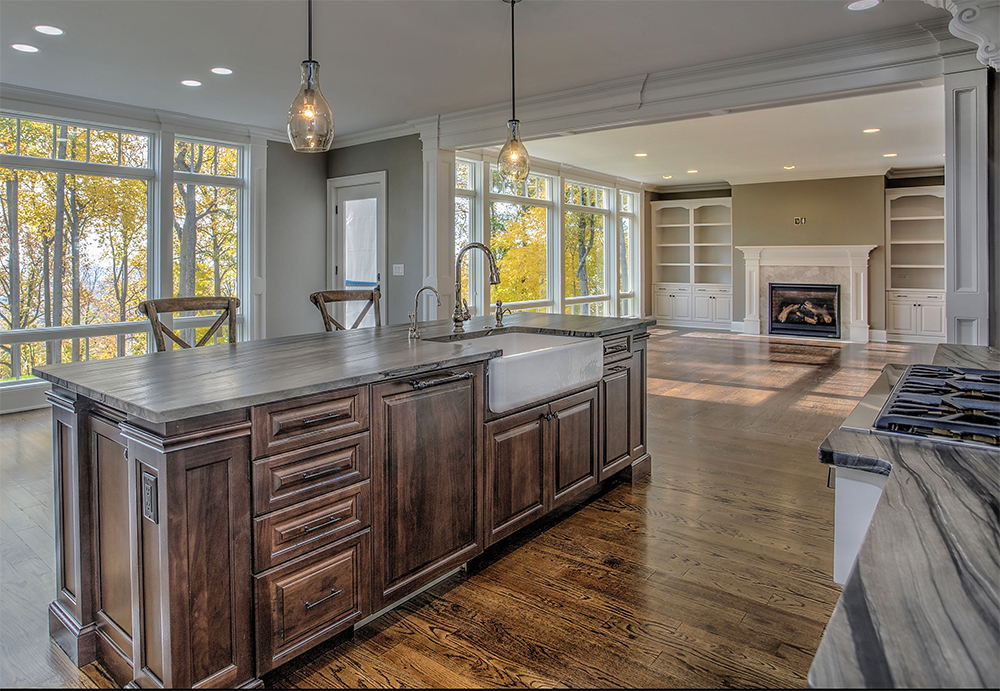 The walnut stained center island includes a spacious cast iron farm sink, dishwasher, electrical outlets, storage drawers and cabinets, storage at both ends - all in a beautiful raised panel style.
This is a large kitchen, with extensive cabinetry and a strong center island. it was a complex design and installation job but Kitchen Classics was able to perform both. The clients were seasoned builders with a clear vision but we were given room to innovate and customize and the feedback has been great.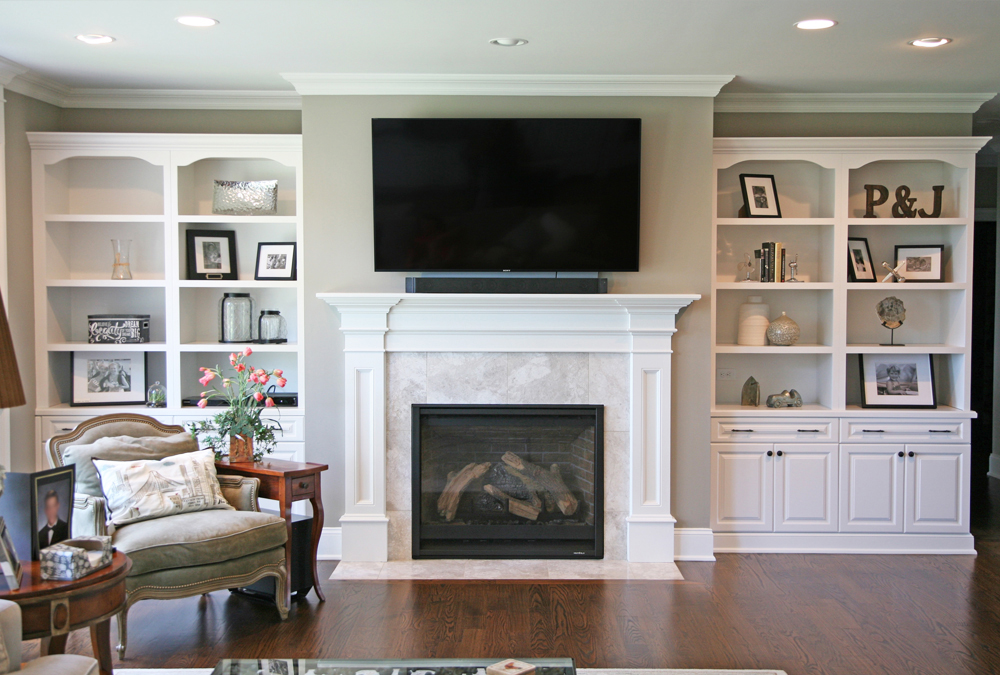 Kitchen Classics designed and installed this New Jersey single family home living room bookcase with cabinetry. The design reflects the raised panel door design used throughout the adjacent kitchen. The bottom cabinets have double doors and raised panel drawer fronts. The shelving section has fixed shelf heights and fine moulding detail. The cabinets are recessed from the fireplace front and not as tall - helping to create a three-dimensional design statement. This is a beautifully designed and constructed wall. Kitchen Classics designs and installs bookcases, libraries, bars, and other unique custom millwork projects for residential builders, residential remodelers and homeowners.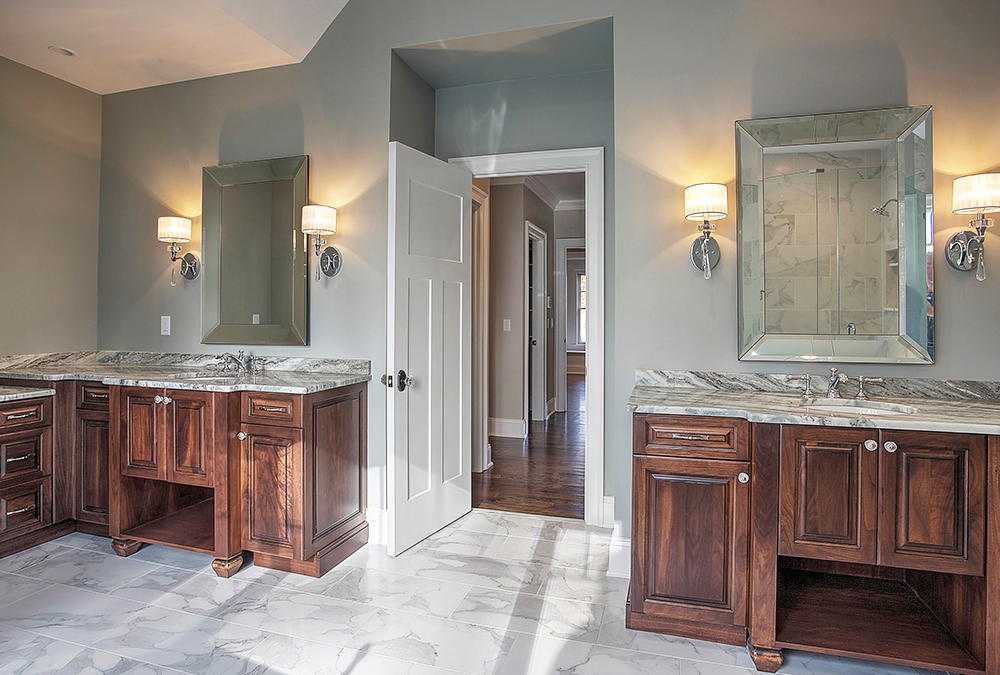 Kitchen Classics designed and installed this New Jersey master bathroom. A clear trend in higher end single family master baths is separate but largely mirrored dual cabinetry and sinks. Hers to the left, his to the right are configured differently when they turn the corner but mirror each other in many ways. the offset reaches out in to the room which gives a elegant 3-dimensional effect. This is fine bathroom cabinetry designed and installed by the Kitchen Classics of Millburn/Vauxhall, New Jersey.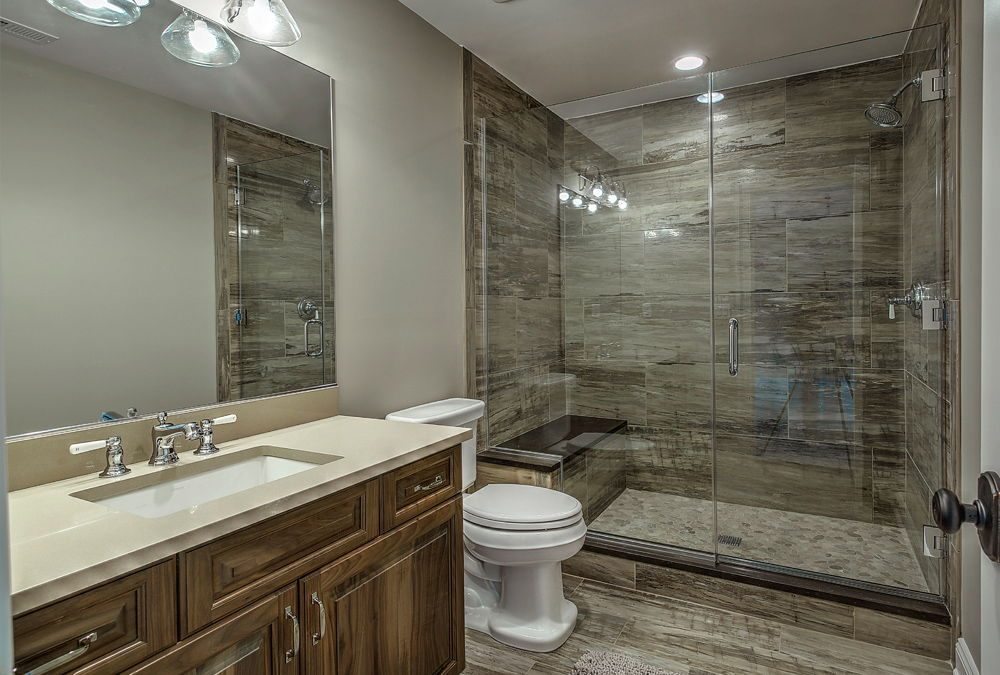 We designed and installed all kitchen and bath cabinetry - a total of 4 bathrooms. In this 2nd floor guest bath the rich wood and the protective stain of the cabinetry go beautifully in this Warren, New Jersey single family residence..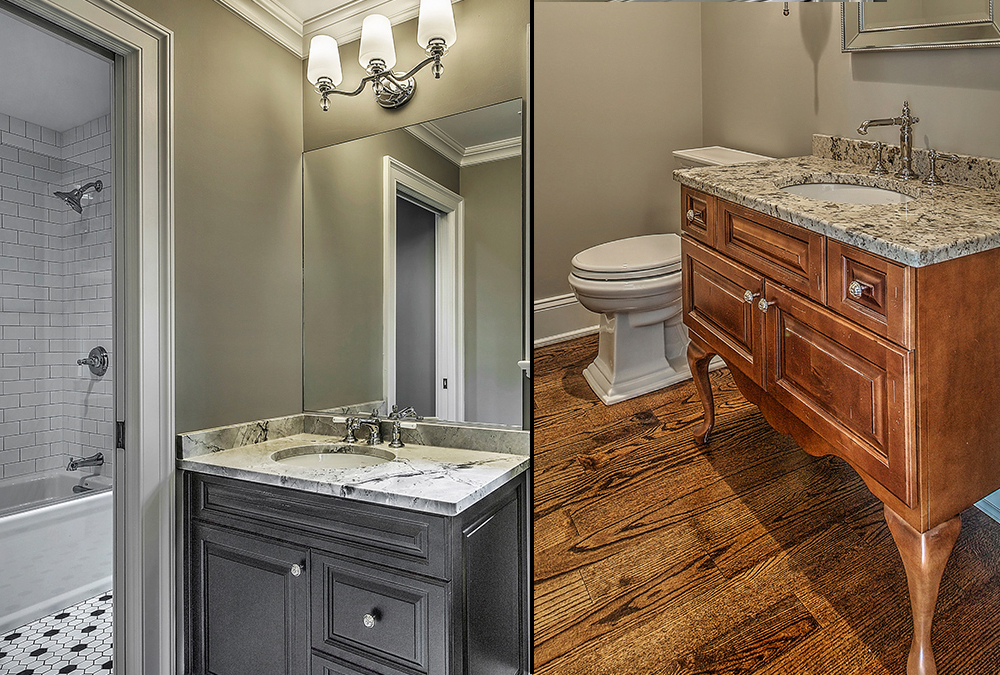 Kitchen Classics designed and installed elegant finishing details for 8 rooms in this house (mud room, kitchen, laundry room, living room, four bathrooms). With such a deep involvement we can really take the pressure off a single family residential builder in many of the most time consuming rooms in the home (kitchen, baths). In addition, one company designs and installs everything so the scheduling, consistency and quality of the work is professionally executed..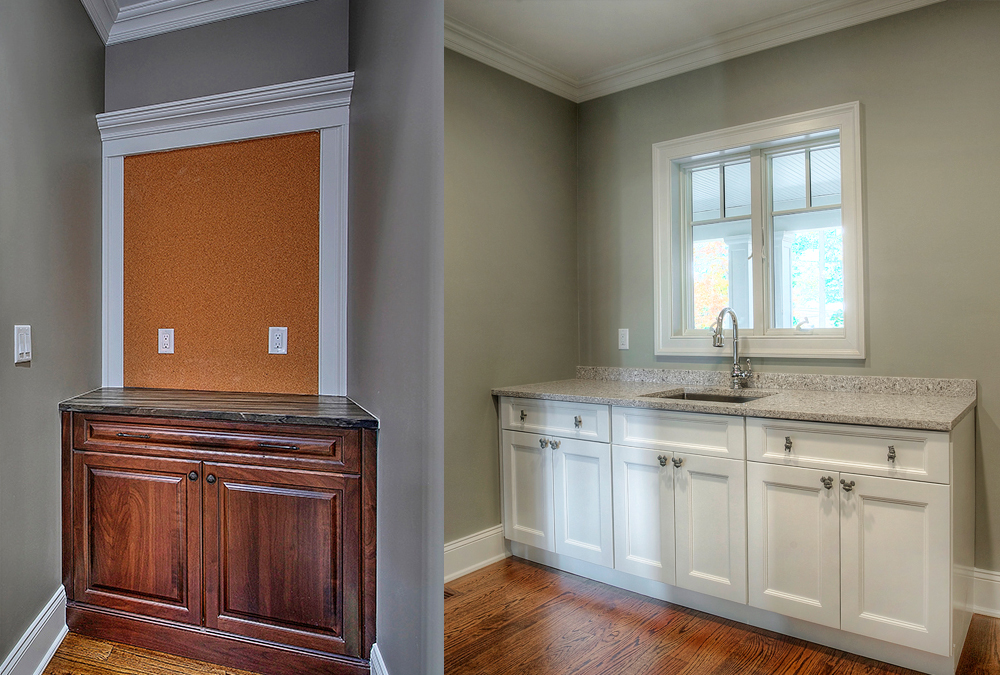 The butler's panty on the left, and laundry room on the right allowed us to put convenient cabinetry and utilities in vital living areas. Kitchen Classics works in many rooms other than kitchens, but we bring the same creativity and professionalism to these unique spaces.
Services We Provide Single Family Residential Builders
Kitchen Cabinetry and Countertops
Bathroom Cabinetry and Countertops
Complete Cabinetry and Countertops
Kitchenettes & Bars
Bookcases, Libraries
Offices
Laundry Room Cabinetry and Countertops
Finished Basement Cabinetry and Countertops
Design Services
Complete Installation Services
Services We Provide Single Family Residential Builders
Kitchen Cabinetry and Countertops
Bathroom Cabinetry and Countertops
Complete Cabinetry and Countertops
Kitchenettes & Bars
Bookcases, Libraries
Offices
Laundry Room Cabinetry and Countertops
Finished Basement Cabinetry and Countertops
Design Services
Complete Installation Services
Learn More About Our Single Family Residential Services
CONTACT US