The tear down of a home in Madison, NJ allowed the construction of a beautiful new home built in Transitional Style to reflect the character of this charming community. Kitchen Classics provided the entire kitchen cabinetry, 5 and 1/2 bathrooms including an award winning master bathroom design and installation, a mudroom treatment and laundry room cabinetry. This home was built by Distinctive Domains of Warren, NJ.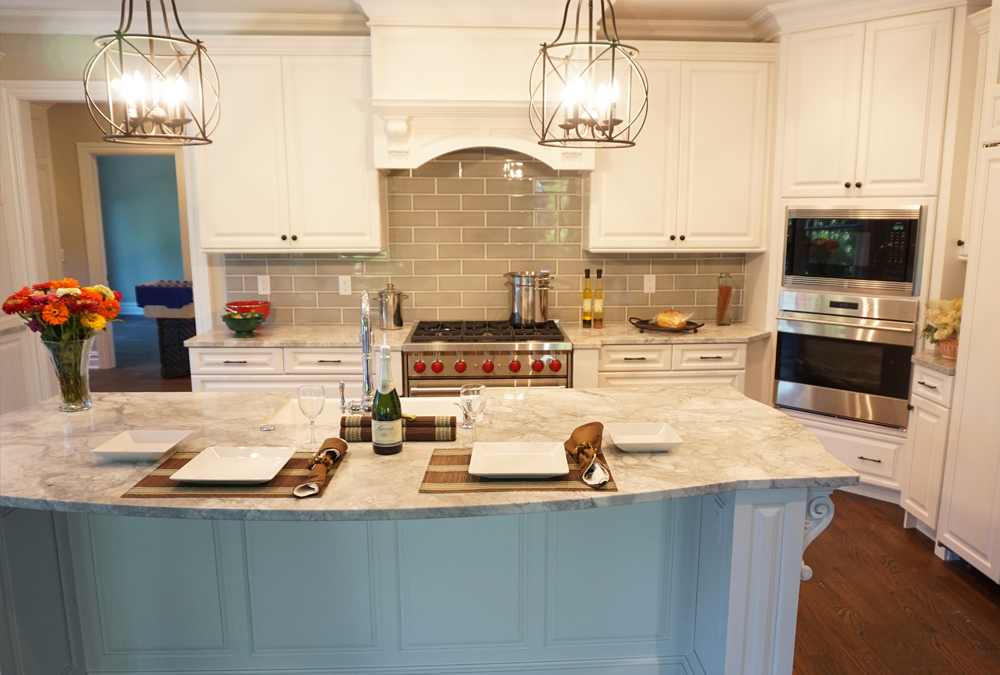 What We Provided Distinctive Domain At This New Home
All kitchen cabinetry and countertops
All bathroom cabinetry and countertops (3)
Laundry room cabinets
Mudroom bench and storage
Services We Provide Single Family Residential Builders
Kitchen Cabinetry and Countertops
Bathroom Cabinetry and Countertops
Complete Cabinetry and Countertops
Kitchenettes & Bars
Bookcases, Libraries
Offices
Laundry Room Cabinetry and Countertops
Finished Basement Cabinetry and Countertops
Design Services
Complete Installation Services
Guided Tour Of This Project With Captioned Narration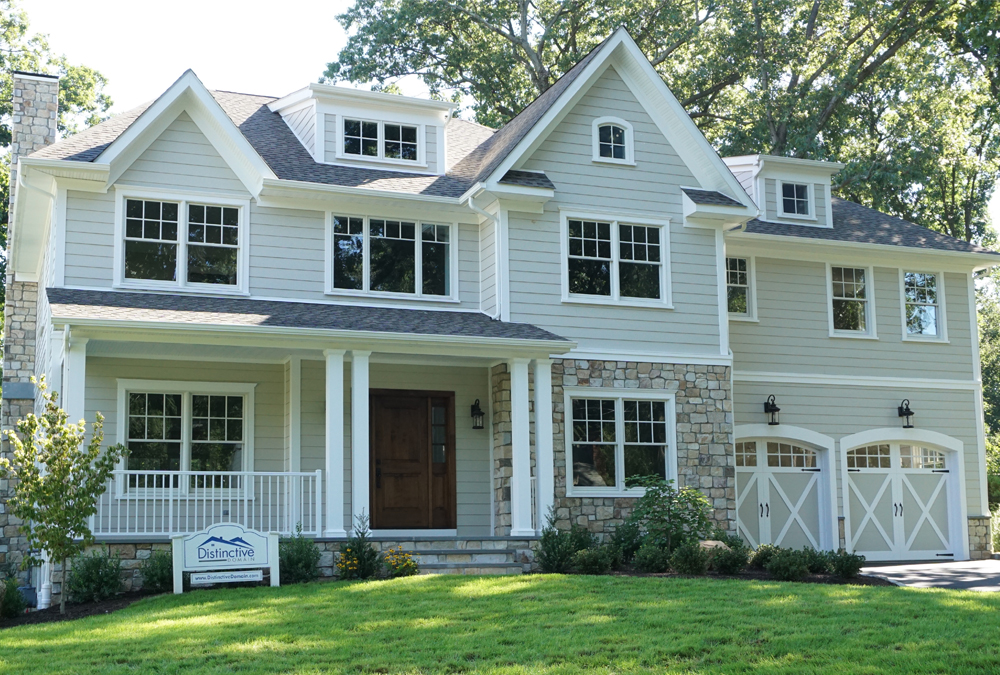 This 5,000 square foot, four bedroom, five and a half bath new home construction in Madison New Jersey is another example of how Kitchen Classics handles multiple vital projects for new home builders and renovators. We designed and installed the kitchen, 5 full bathrooms and a half bathroom, including an award winning master bathroom, the mudroom, and laundry room. These are the most critical rooms and we we did them all for a builder with a known reputation for quality.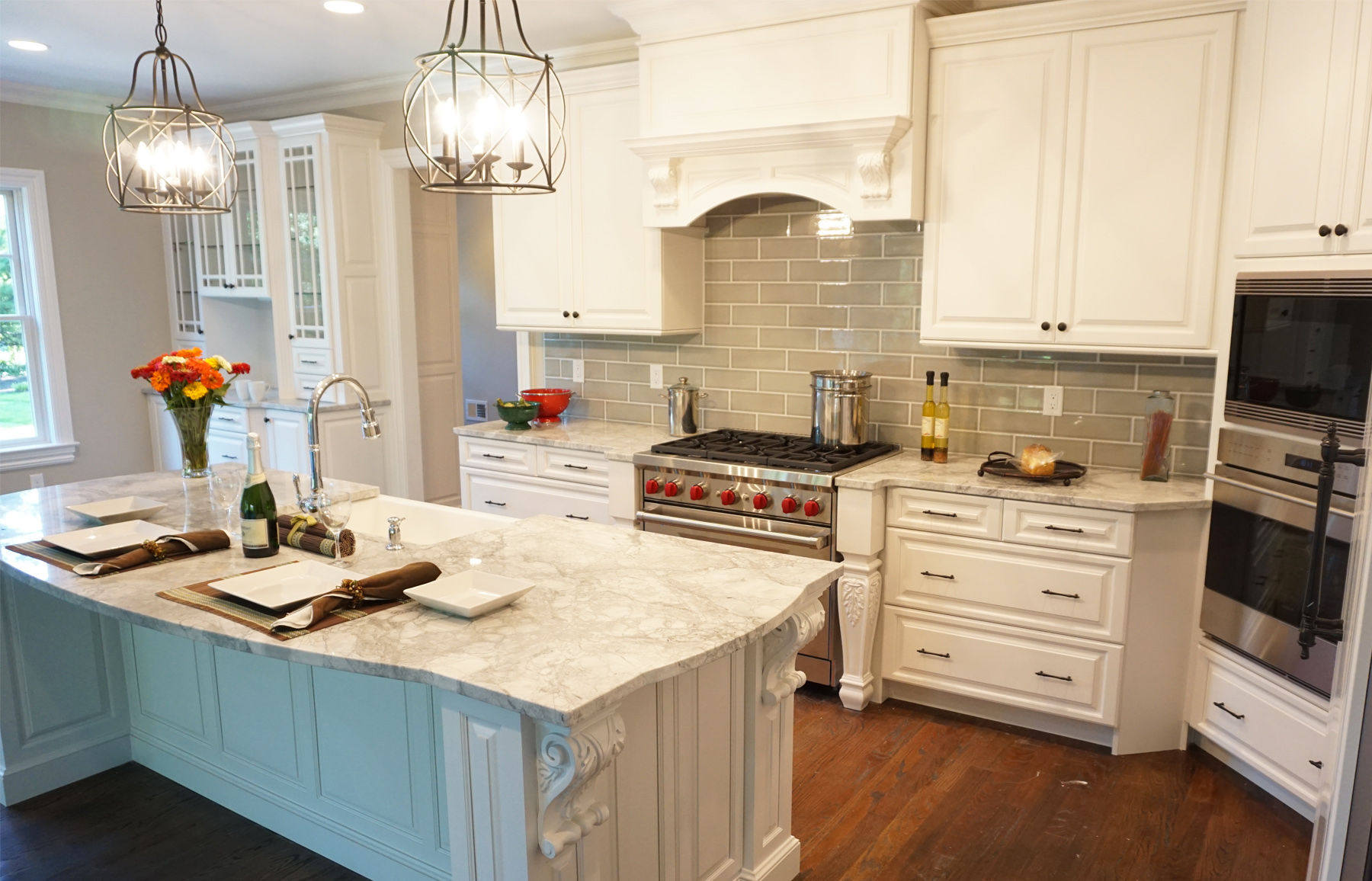 This kitchen spans three individual walls, and features a recessed corner wall oven to tie the walls together. Recessed wall ovens are tricky to pull off - they must work perfectly in the specific room and setting they are in. They can't stop traffic, they can't bump into other cabinetry when opened, they can't hold back the chef, or compromise safety. Our seasoned designer masterfully fit the oven to the right of this picture (also seen in next picture) into the corner and everything worked off that corner. The center island seats four and has an integrated  farm sink and dishwasher side by side facing the stove.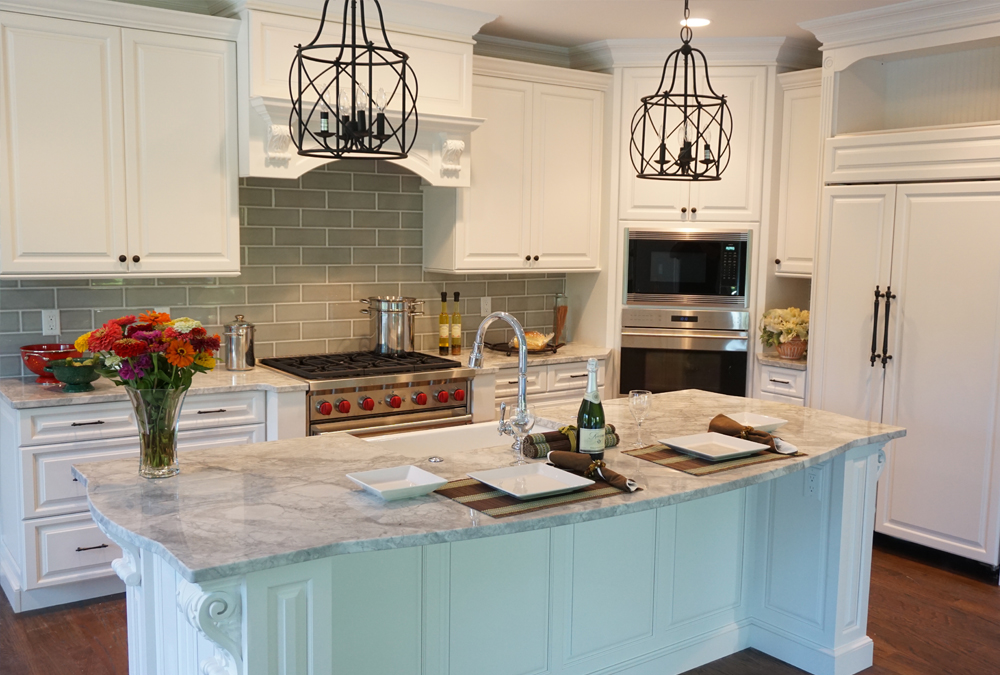 Again the recessed corner oven really inspires this kitchen design. From that corner notice both the change in elevation of the upper cabinets, and the changes in depth out into this room. The 3-dimensionality of the cabinets combined with the corner wall oven make for a beautiful architectural design statement that is picked up in the center island. This is an eye catching kitchen that functions beautifully for the new homeowners in central New Jersey..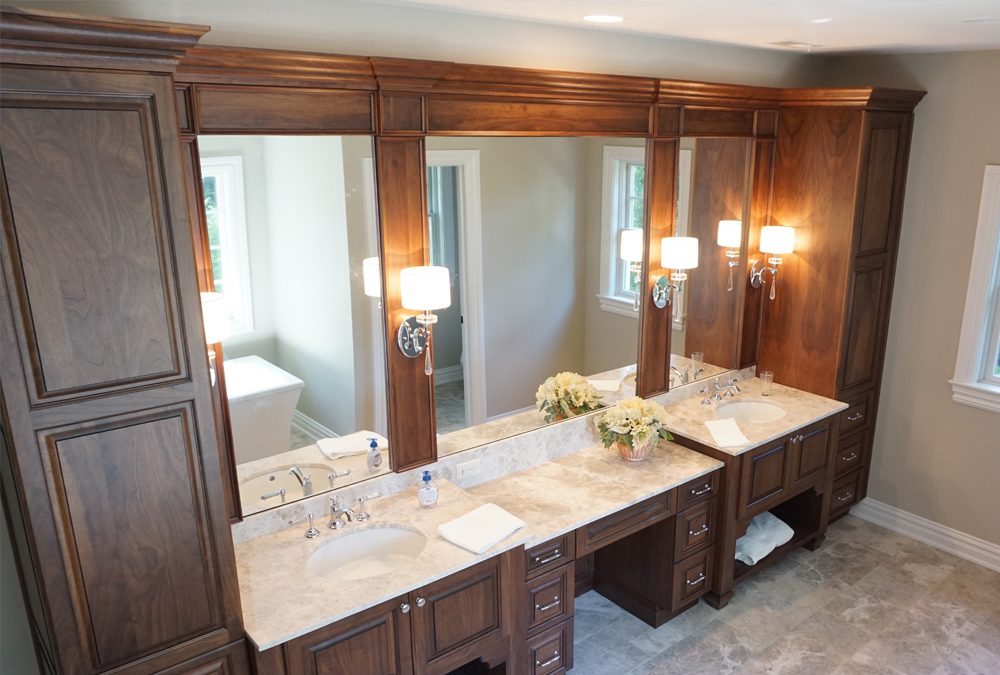 This master bathroom design (Kitchen Classics installed it as well) won the Metro Builders & Contractors Association award for best bathroom design by an associate member. We are honored to receive the award given the strength of the competing designs. The rich walnut stain, raised panel doors and drawer fronts, changes in depth and elevation of the countertop create a unique and elegant look to this Madison New Jersey new home master bathroom. This is one of 5 and 1/2 bathrooms we designed and installed in this beautiful new home. The linen cabinets flank the ends and flow seamlessly to the vanities and the mirror complex against the wall..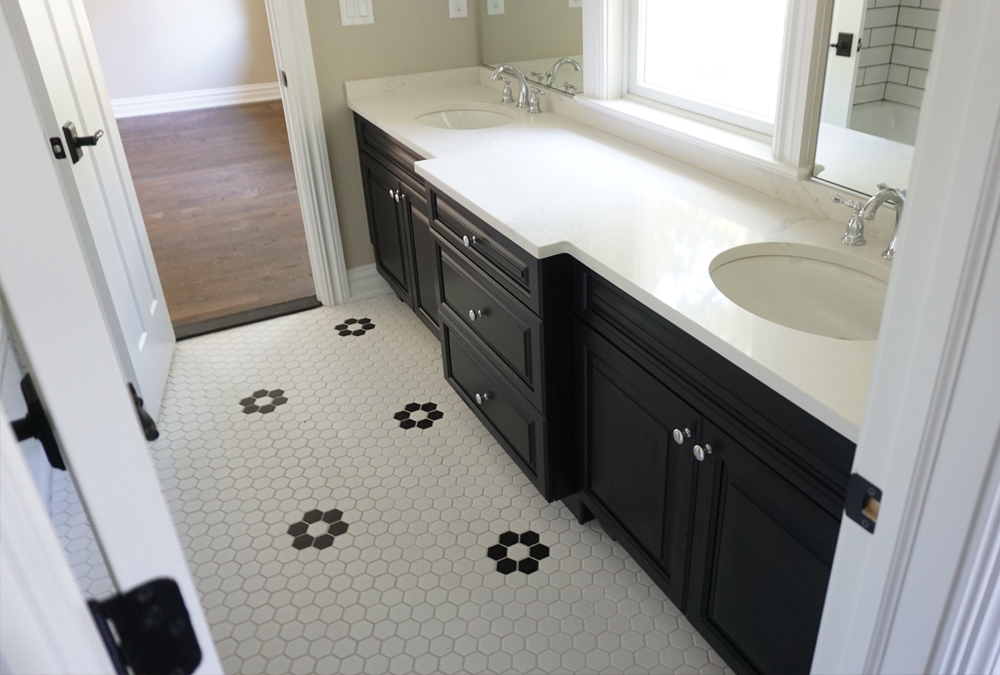 The dual sink highlights this bathroom designed and installed by Kitchen Classics in this new Morris county home..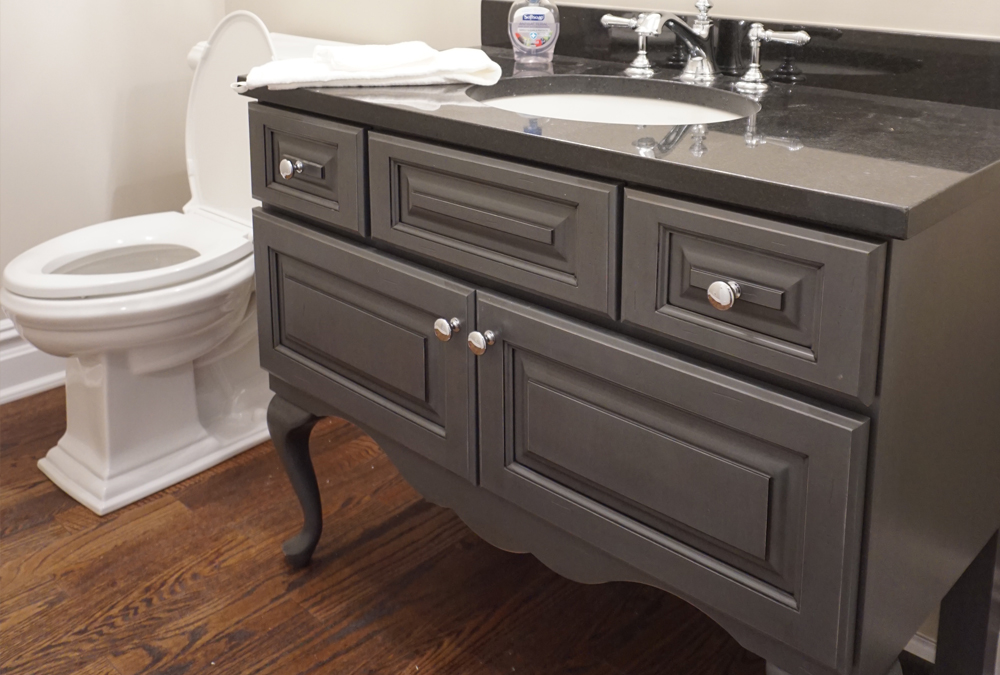 Queen Anne vanity - one of 5 full baths we installed in the home..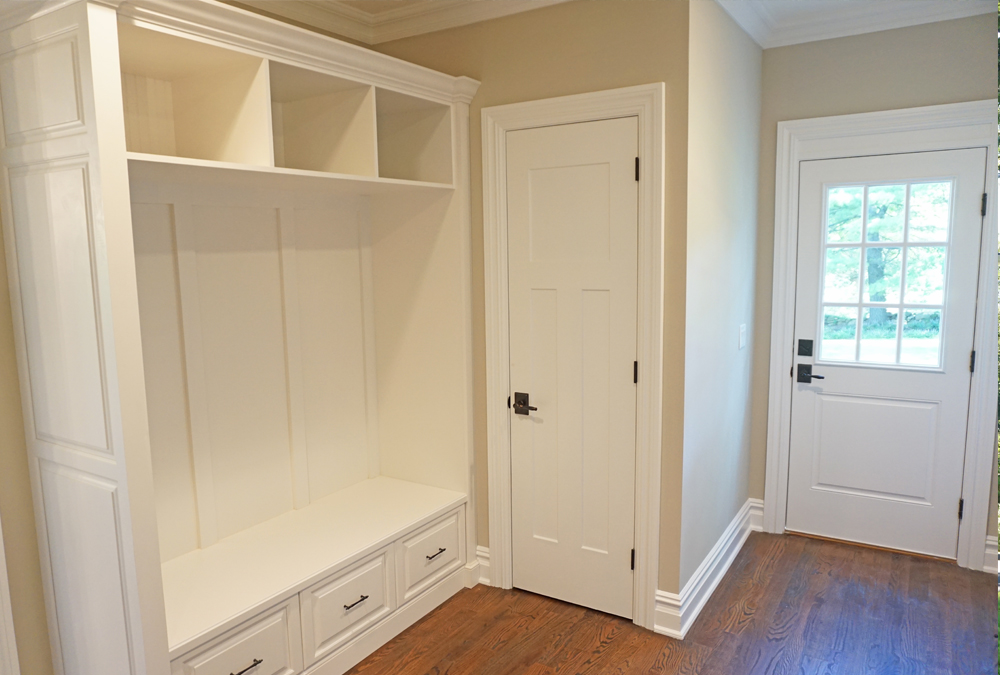 In this mudroom upgrade this cabinetry starts with a drawer below, a bench, and shelves above. The shaker style design relies on simple but strategic wainscoting effects and recessed panel effects. The nearby closet eliminates the need for most coat hanging hardware. This is a nice way to help organize entry into the home and it was designed and installed by Kitchen Classics.
.
Learn More About Our Single Family Residential Services
CONTACT US