A wonderful client, on a quiet culdesac in the beautiful town of Springfield, New Jersey (Union County) wanted a new kitchen in the same space as her old, dark kitchen. The client and our Senior Kitchen Designer Yury Solbodsky immediately hit it off. She told Yury about her hopes, ideas and dreams for a new kitchen. Yury created a remodeled kitchen design that streamlined and brightened the space, while dramatically increasing useable cabinet space. A white cabinet theme was used throughout. Yury chose Designer Choice Kitchen Cabinets as the foundation of the design. Glass door cabinets were chosen to add a sense of interest and drama to the top of the wall cabinets. A small office work area was included, as was the spouse's beverage refrigerator and mini bar space. The clients loves their remodeled kitchen, and The Kitchen Classics thoroughly enjoyed working with them on this Union County, New Jersey kitchen remodel.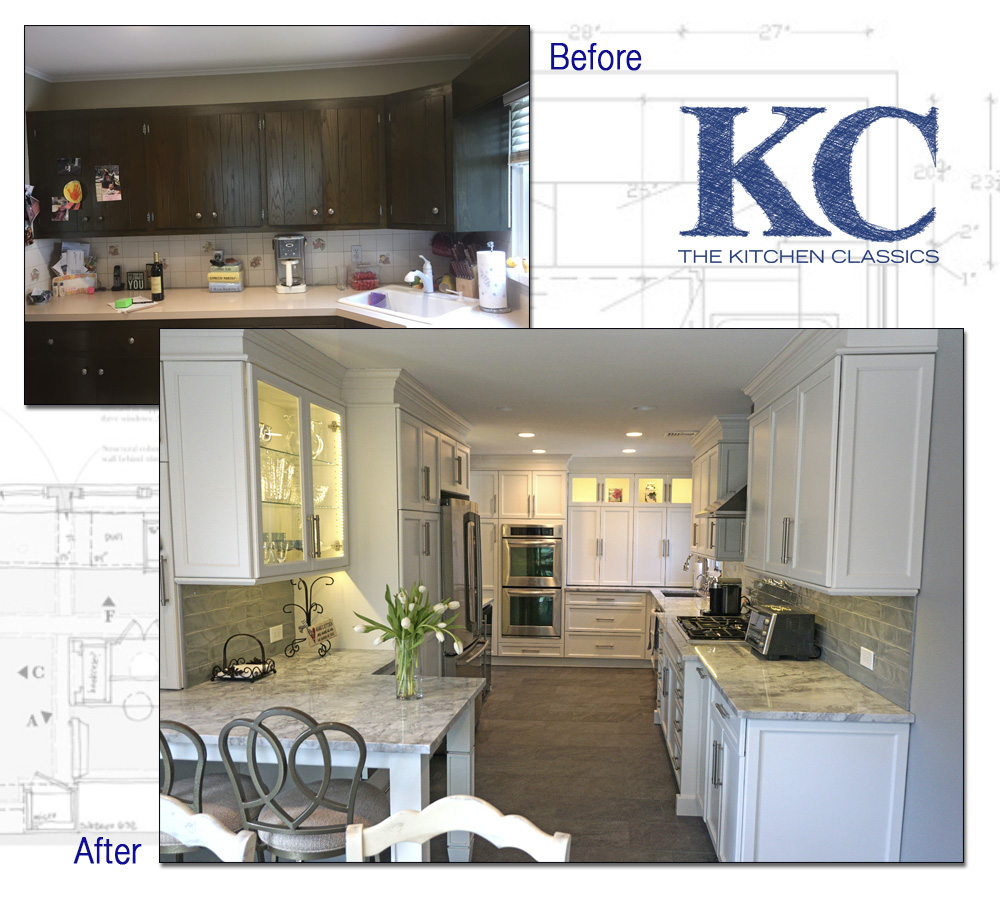 Kitchen Remodel Springfield NJ Tour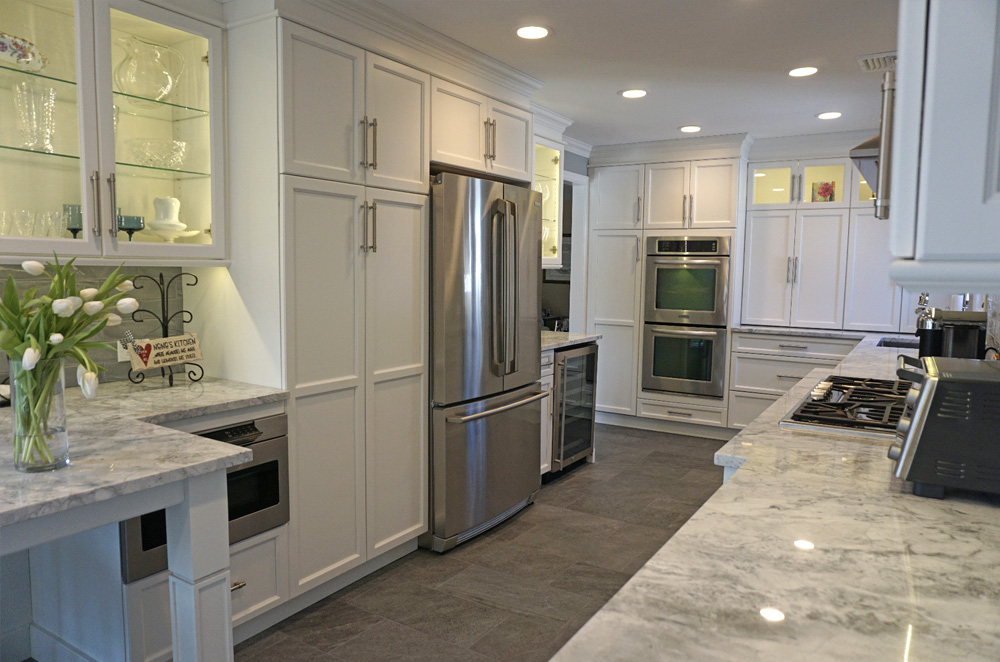 This Springfield New Jersey kitchen remodel was fairly typical in that it had to fit in the existing kitchen space - the room was not expanded in any way. Modern cabinetry can dramatically increase available storage space in smaller overall spaces. Kitchen Classics was able to provide a desk are (hidden far left) a wall of cabinetry, room for a new refrigerator, a minibar and beverage refrigerator. In addition we were able to fit in two glass door cabinets which really opens up and lightens the space by making it feel deeper and more roomy.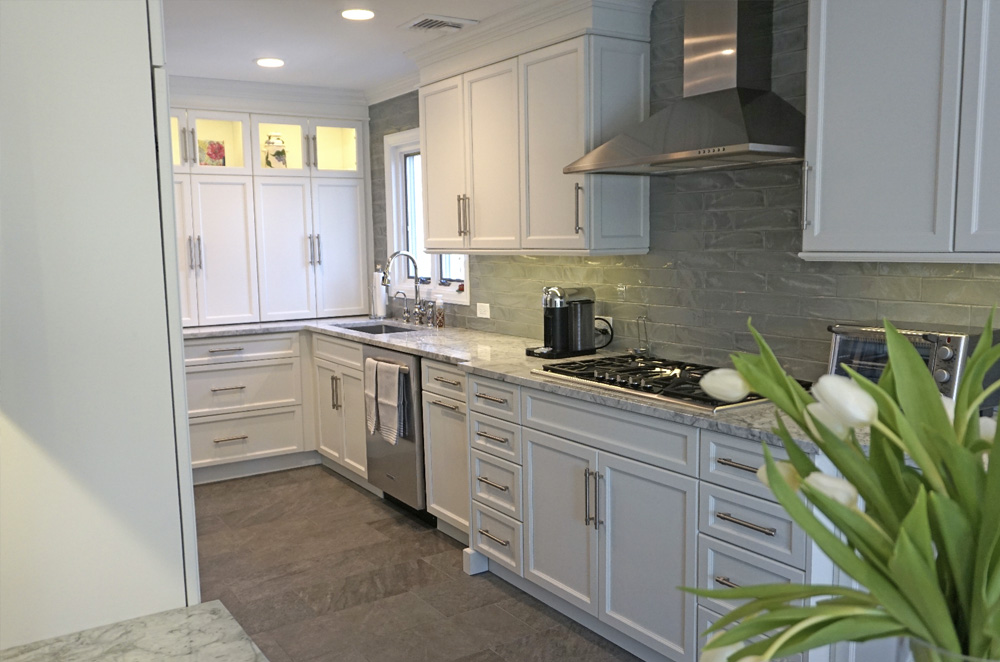 Look at all the storage space along this wall and yet it has drama and character as well. The symmetry of the hood and stove area is accented by the slight bump out of the cabinets and counter around the stovetop. This is a long wall of cabinetry and that little bump out of the counter can really make a difference. The result is a change in depth along the wall - it adds a three dimensional element to the cabinetry.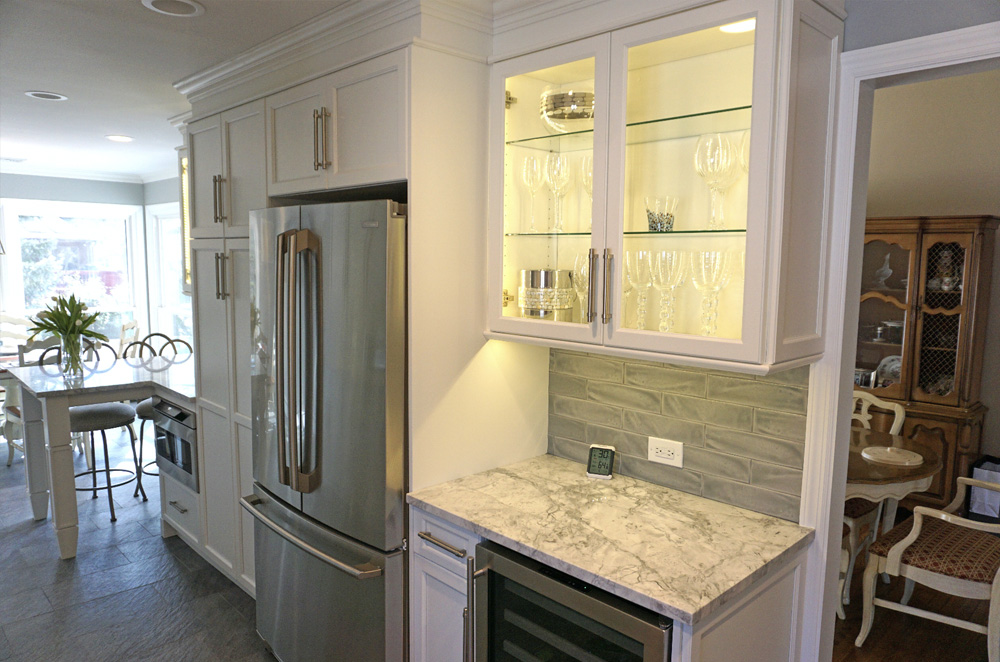 The mini bar area and beverage refrigerator are a favorite of the client. They are located near the door to the dining and living rooms and it really streamlines the whole process of getting a cold beverage.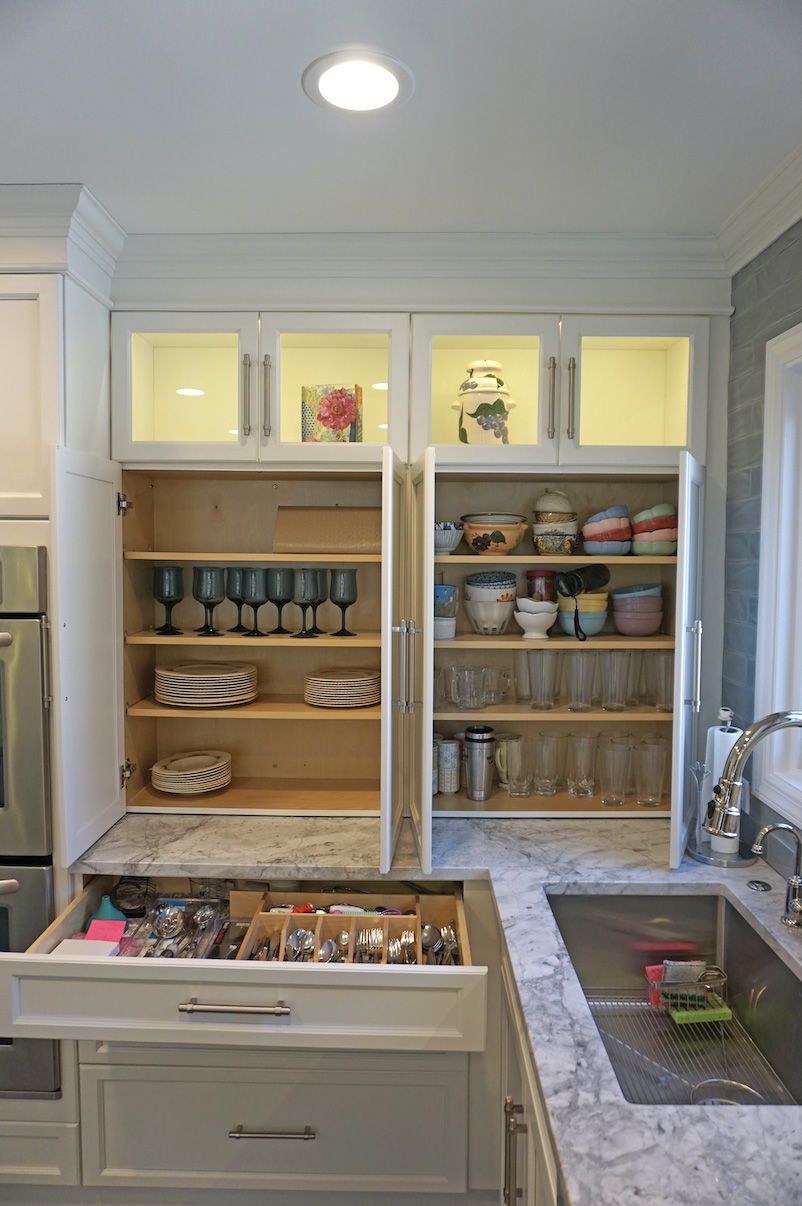 This is modern, frameless cabinetry and cabinet drawers. There is a large amount of unobstructed kitchen storage space. This is an example of what a kitchen remodel can do for your kitchen. It really makes the space easier to live in. A lot goes on in a kitchen and well designed - user focused cabinetry can make the whole space and process work better.