This unique contemporary home is located on a rectangular lot in Short Hills, NJ. The rectangular house sits beautifully on the property and the contemporary design is stunning. Walls of large windows let abundant sunlight into sweeping spaces within the home. The kitchen, dining area and family room come together in a dynamic way that creates a wonderful gathering space for family and friends. Kitchens Classics was responsible for the kitchen, a beverage bar in the family room, the master bath, additional bathrooms and two laundry rooms.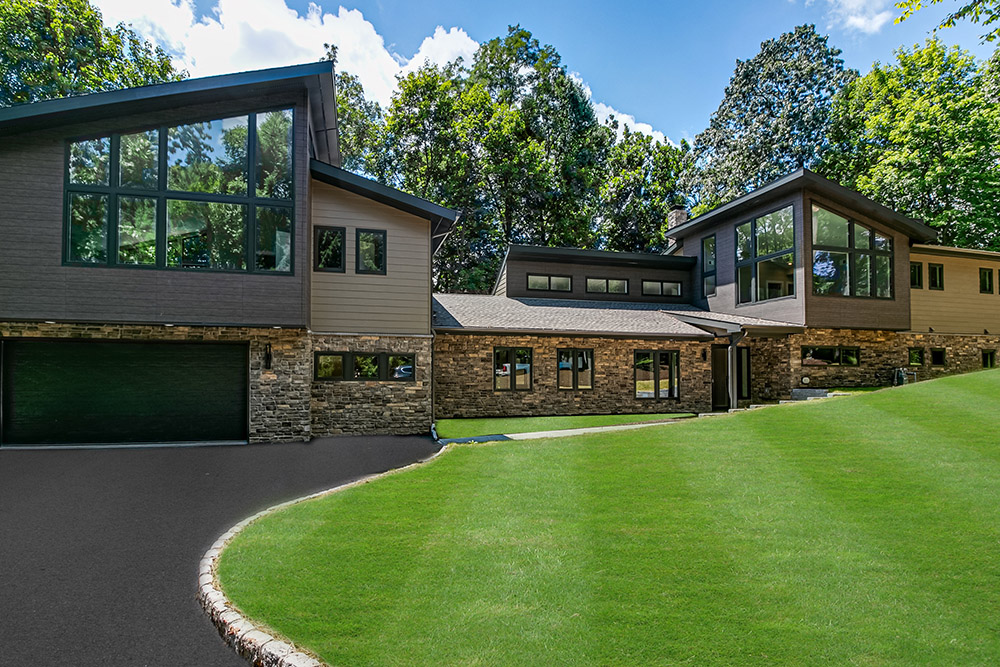 The kitchen flows into the dining area which flows into the family room. The kitchen has the same shape as many rooms in the house - it is distinctly rectangular. The shape of the room created design challenges that were met by our Senior Kitchen Designer - Yury Slobodsky. The result is a highly functional kitchen with extensive storage options and a unique island that further expands storage areas.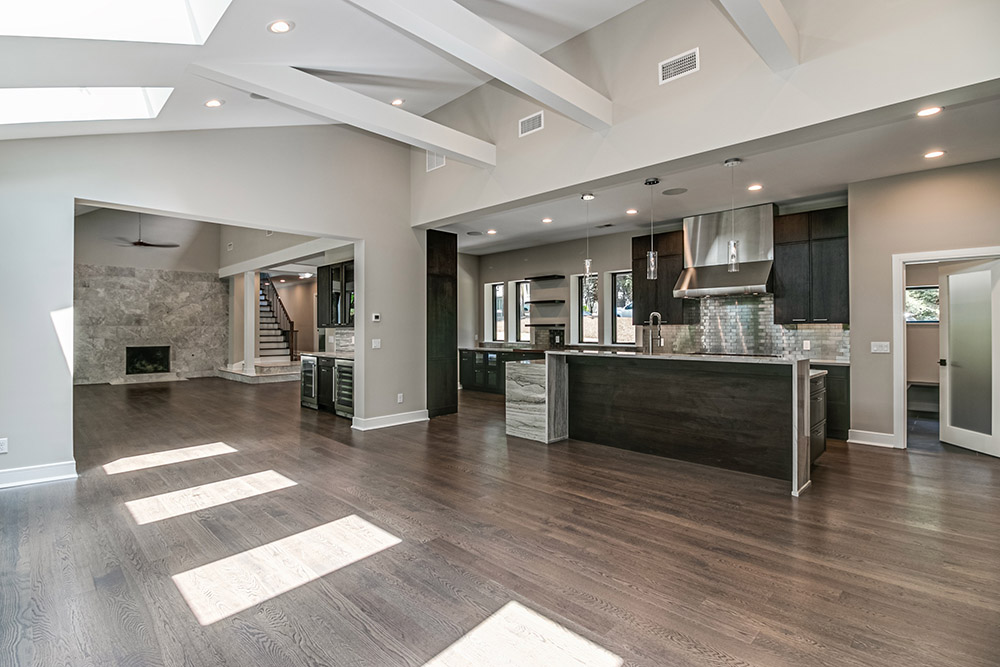 The island in this Short Hills, NJ home is the centerpiece of the kitchen and this is a unique one. Technically it is a two level island with quartzite countertops and waterfall edges. In practice it is the sink area, a four person eating area, an extensive storage space and it holds the dishwasher.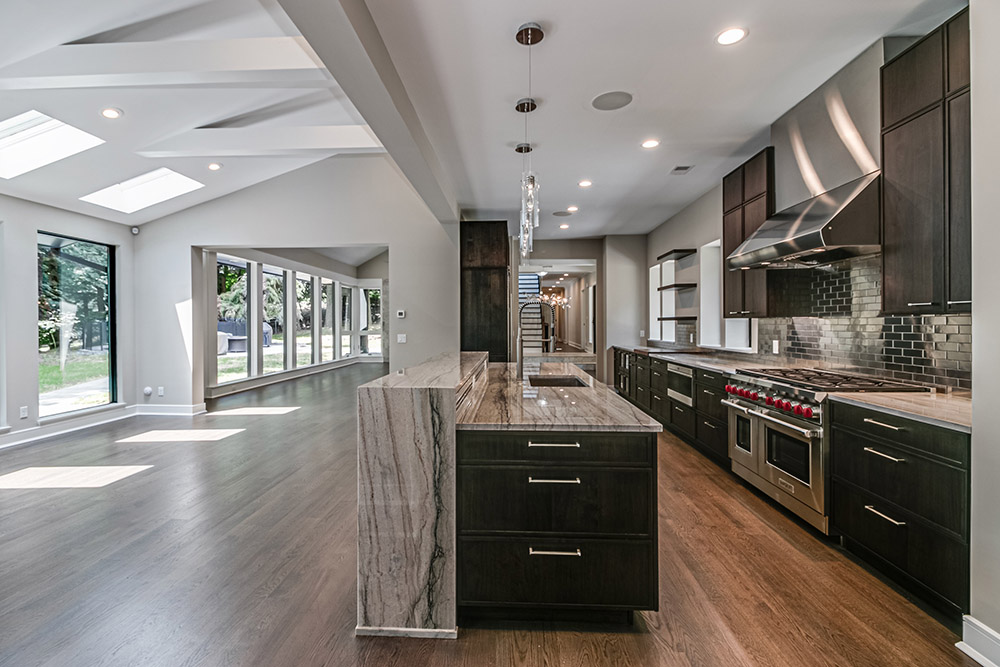 A waterfall edge is defined as a seamless countertop that runs across the top and down to the floor. You are facing one of the edges in this picture and the grain in the quartzite really stands out.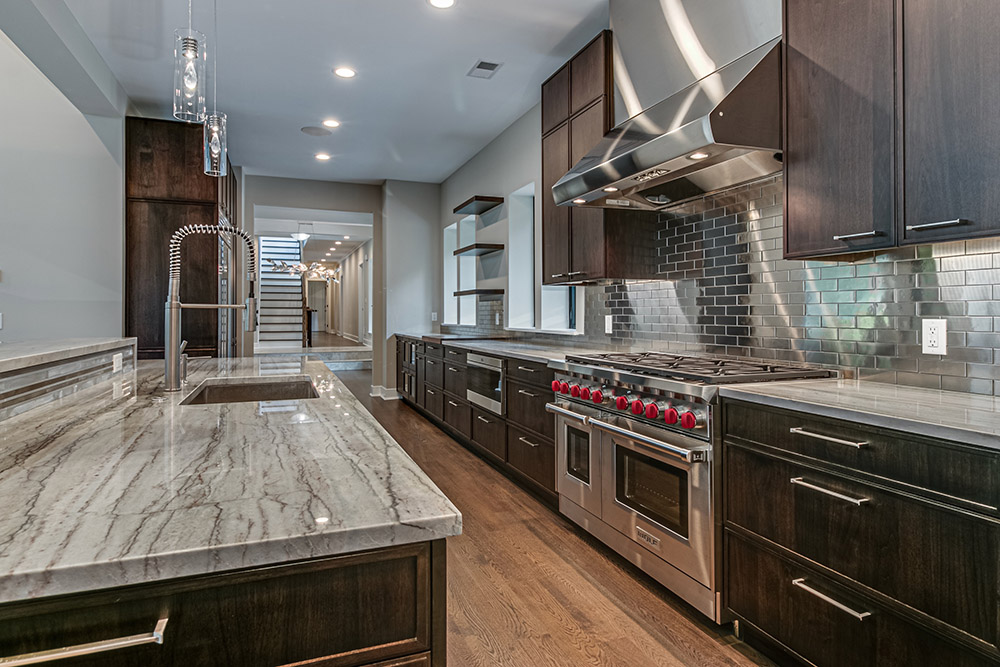 The stove hood makes a real design statement while incorporating spot lights and customized controls. The interplay of light and shadow on the stainless steel creates endlessly fascinating patterns.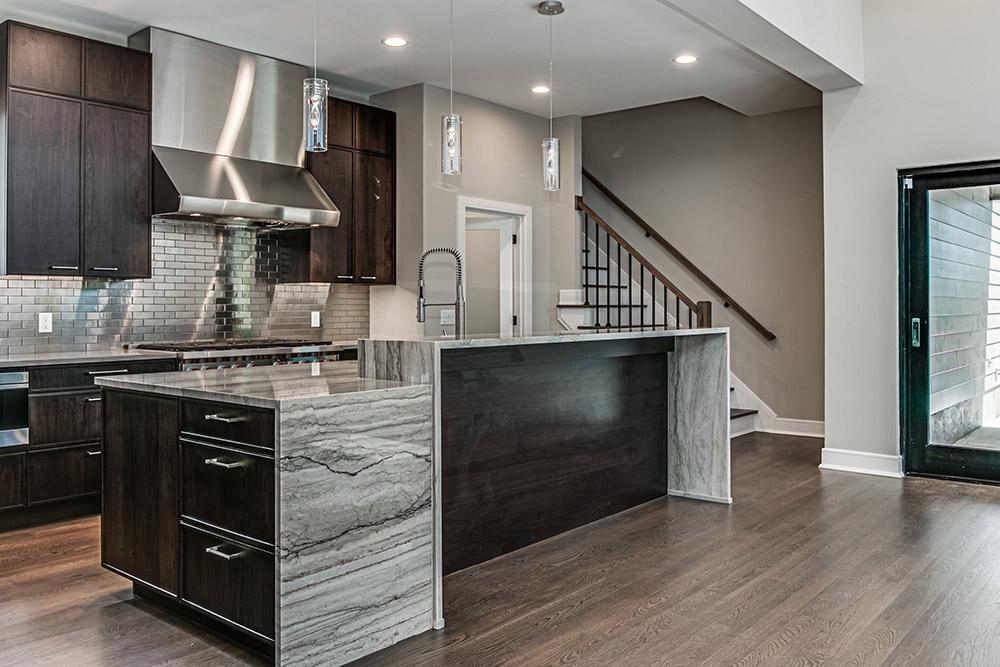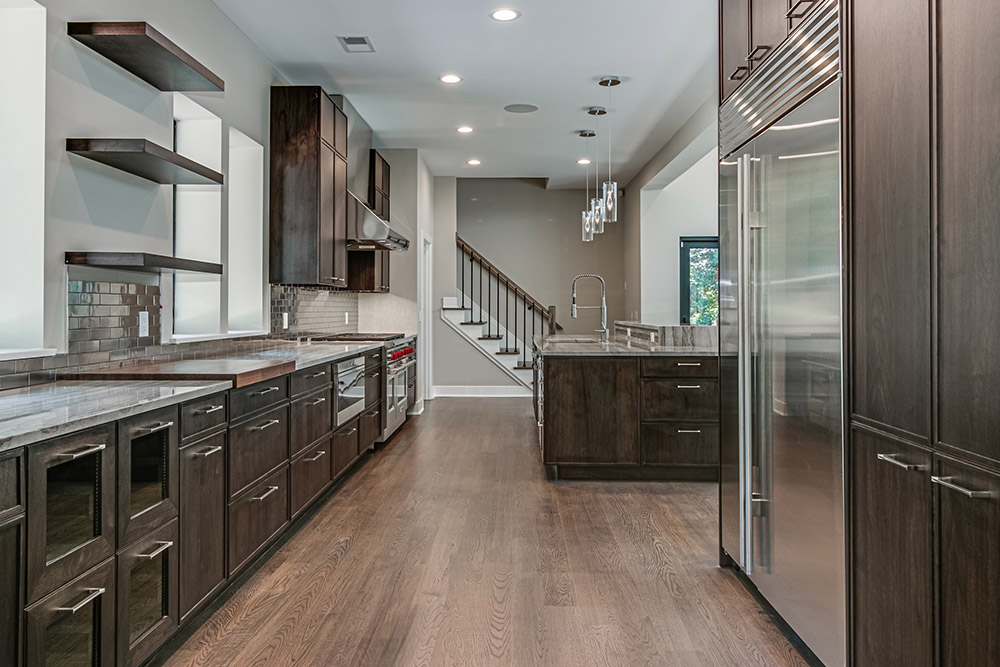 The clients wanted extensive storage options and the row of cabinets to the left provided part of the solution. The glass front pasta drawers show how specific and customized the design is. Floating shelves allow for storage and displays while continuing the contemporary style into the kitchen. A refrigerator and large pantry to the right complete a highly functional space for preparing food.
The Family Room Beverage Center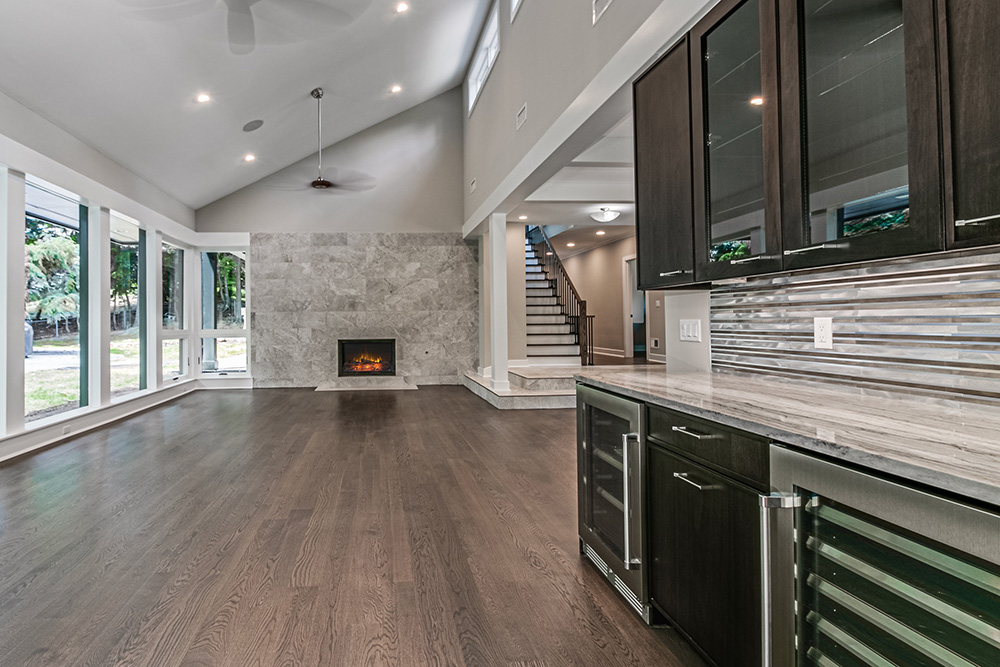 The family room is a relaxation and entertaining hub and the beverage area features two beverage coolers, glass door cabinets and plenty of storage space. The beverage center relieves pressure on the kitchen refrigerator and counter space during larger gatherings.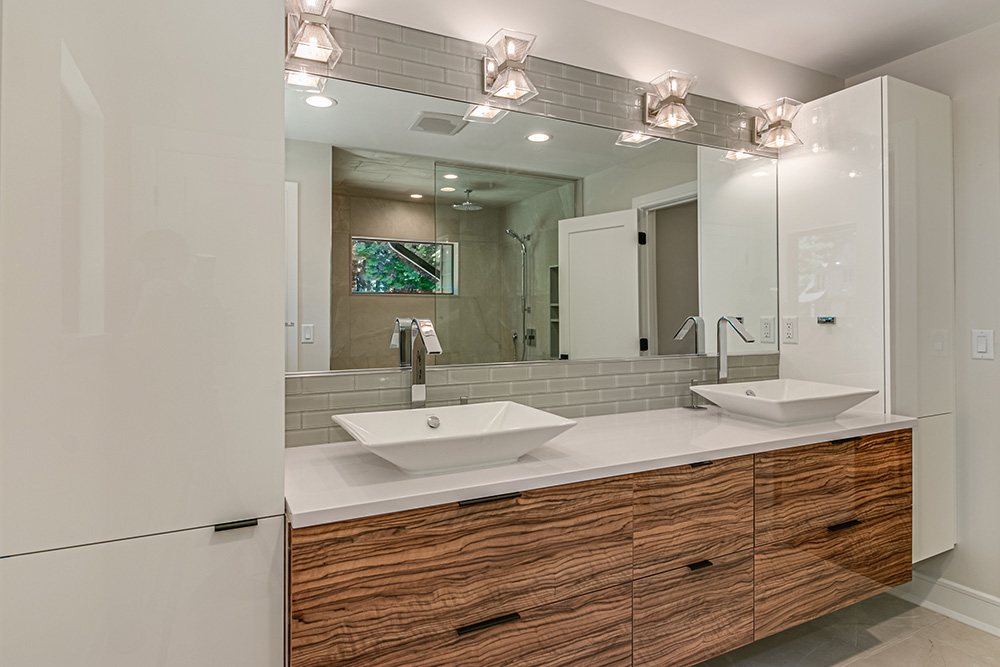 The master bathroom features a floating vanity, matching linen closets in the accent color, and two vessel sinks.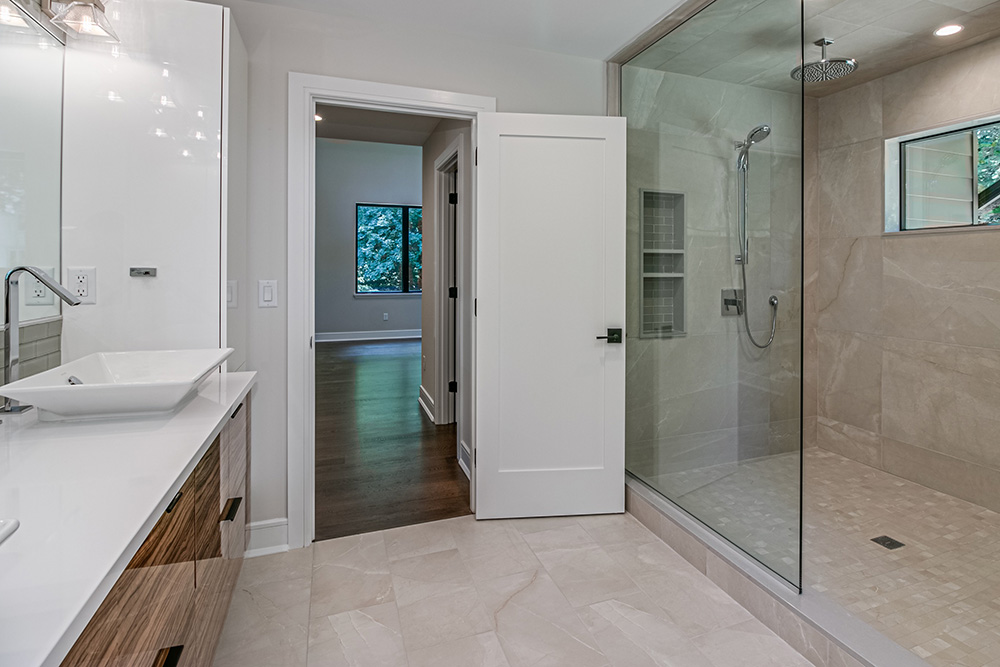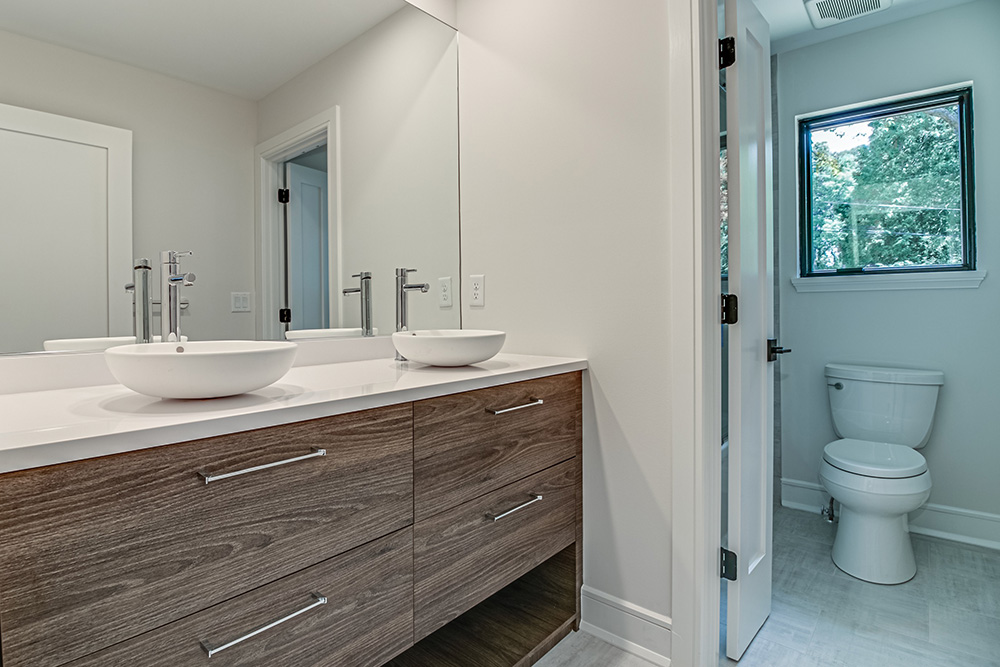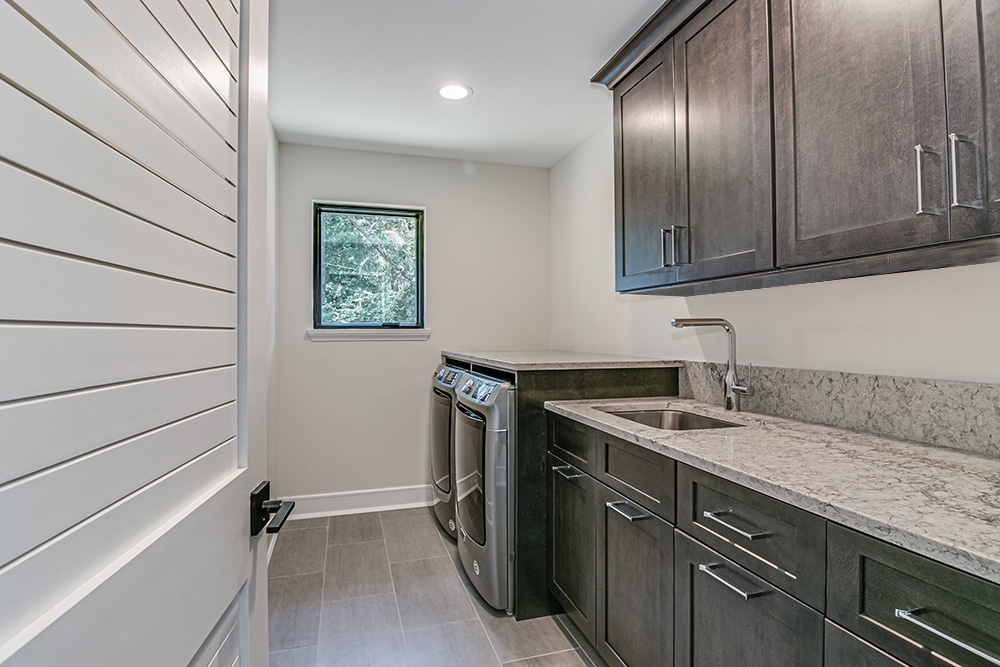 The Kitchen Classics designs and oversees the installation of cabinets and countertops in kitchens, bathrooms, laundry rooms, and mud rooms. We design bars, libraries, entertainment rooms and more. We are thankful for the opportunity to work with these wonderful clients to help them achieve the home they dreamed of. We are equally thankful for our ongoing relationship with Distinctive Domain of Warren NJ - one of the premier custom home builders in our region. If you would like to get started on your dream kitchen please call Senior Kitchen Designer Yury Slobodsky at 908-964-7101 Ext. 17.