This Short Hills New Jersey new kitchen was designed and installed by The Kitchen Classics for Millennium Custom Homes. Kitchen Classics has worked with Phil A. Calinda Jr and Millennium Custom Homes of Livingston New Jersey on a number of projects. Phil A. Calinda Jr. and Millennium were recognized with the Builder of the Year Award by the Metropolitan Builders & Contractors Association in 2017. This beautiful custom home features a state-of-the-art kitchen featuring Designers Choice kitchen cabinets, exceptional quality countertops and appliances, hidden storage options, and a butler's panty and separate wet bar for entertaining in adjacent rooms. The Kitchen Classics also designed and installed the bathroom cabinetry and vanities throughout the house. We appreciate the opportunity to work with Phil and Millennium Custom Homes. If you are a single family home builder, or homeowner in central New Jersey we would appreciate the opportunity to talk with you about our new home kitchen and bath capabilities and services.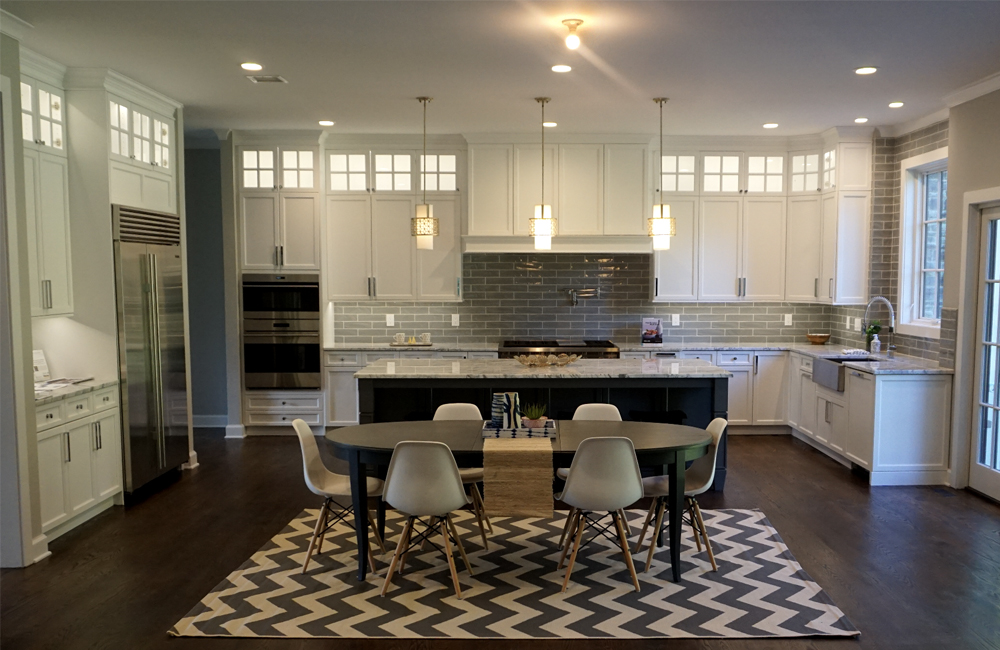 Kitchen Classics provided design and installation services for the following areas in the beautiful Short Hills, NJ home:
All kitchen cabinetry and countertops
Wet bar and butler's pantry
All bathroom cabinetry and countertops (6)
Contact Frank Holl - our Single Family Building Specialist. Frank covers all aspects of new and remodeled single family homes. You can call Frank at 908-964-7101. Ext 22, or email him using the form below. Thank You.
More Photographs Of This Short Hills New Jersey New Home
Kitchen Classics has a long history of working in the Short Hills New Jersey area. We are located on the border of Vauxhall and Millburn and through four decades we have dome countless projects throughout Essex County and the Short Hills, Chatham, Summit and Livingston areas in particular. Most of our recent work in this central New Jersey section of Essex County involves renovating and remodeling kitchens and baths. It is a particularly exciting opportunity to design and install for a state-of-the-art new home in this area of central New Jersey. Through the skilled leadership of Phil Calinda Jr. Millennium homes consistently finds great building and renovating opportunities in this dynamic and densely populated area of our state. If you are a new home builder or homeowner looking to build or renovate kitchens and baths we hope you will consider us for all your kitchen and bath needs.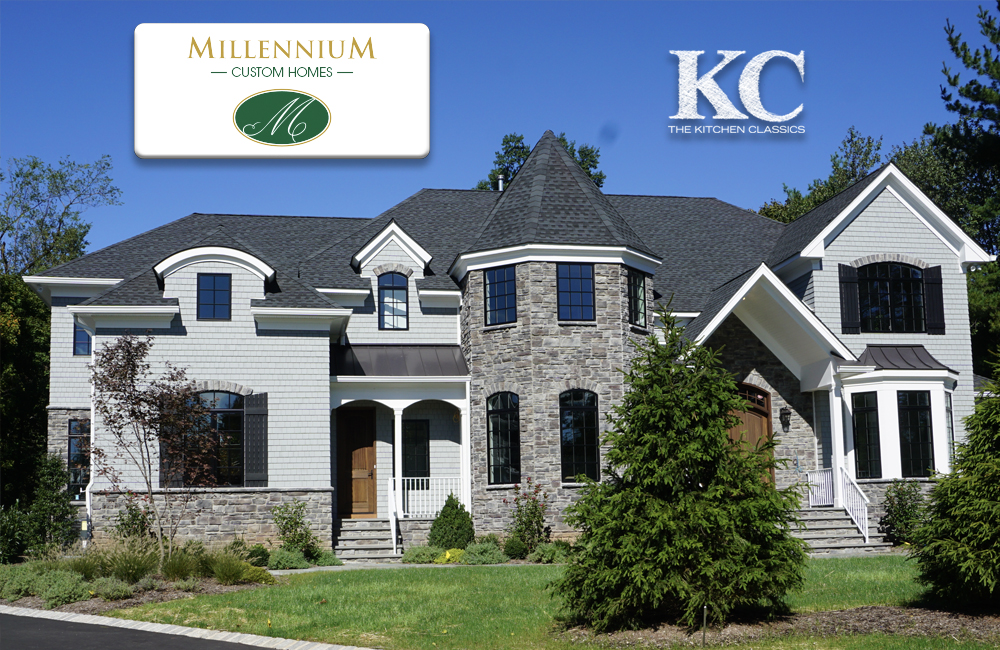 This is a beautiful home inside and out, on a great lot in a great town. Working closely with Millennium Custom Homes we were able to design and install the kitchen, wet bar, bachelor's pantry, and 6 bathrooms in the home. Millennium does high quality work throughout their homes and renovations so we chose Designers Choice quality Kitchen Cabinets to meet those standards.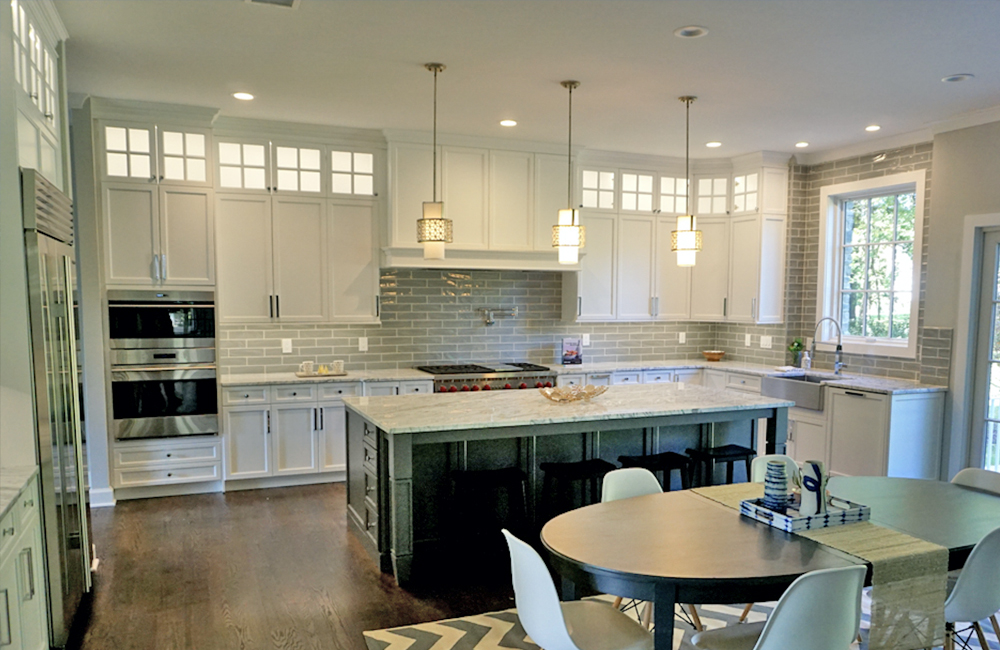 Designers Choice makes a full line of kitchen cabinet styles in countless colors. White kitchens remain extremely popular and we went with a white cabinet theme, stainless steel farmhouse sink, and dark stain on the center kitchen island base. The top row of glass door cabinets, all lit from within, add an elegant touch and substantial space for additional glass and ceramic ware storage. There is a lot of storage space in this Short Hills New Jersey kitchen.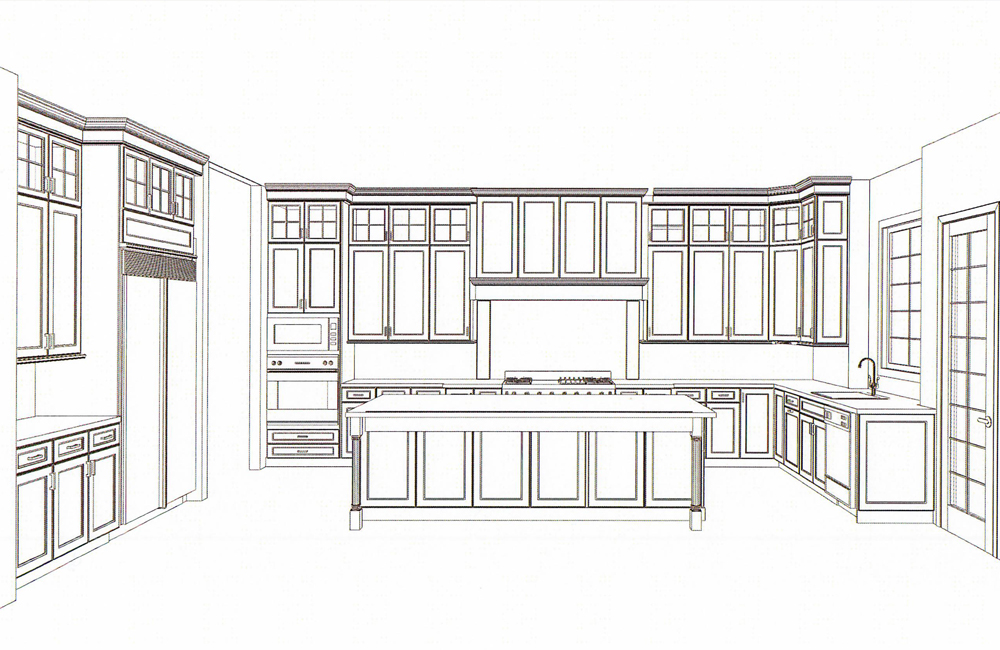 3-D Designer Renderings of our kitchens allow all parties to understand how great the finished kitchen will look as well as how it will function.